---
Hareline Dubbin
Diamond Braidtop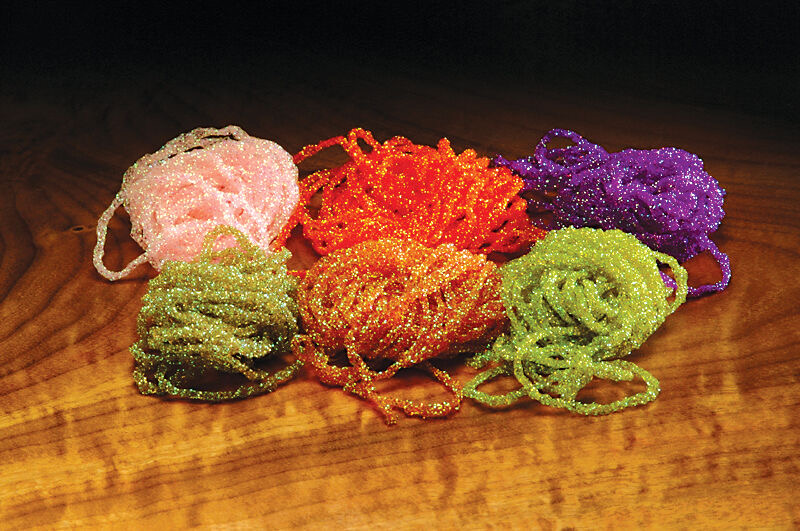 Makes great body material
Makes a great body material for salmon/steelhead flies or tropical
Flat Diamond Braidtop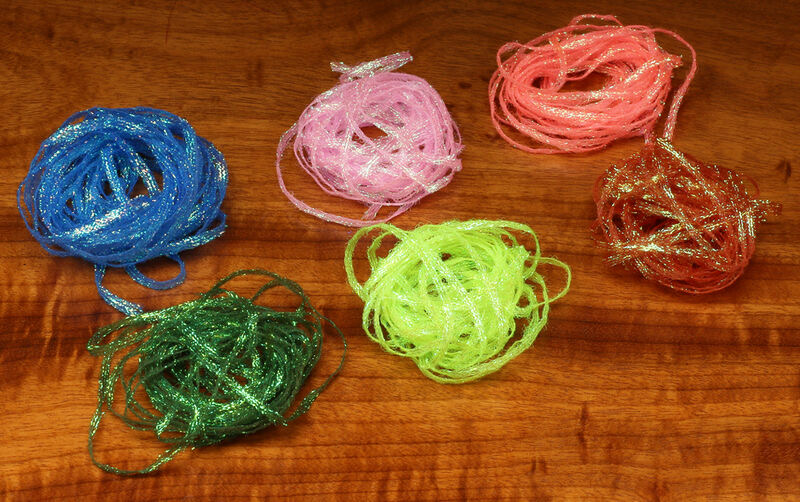 Great slim body material
A flat version of our popular Pearl Diamond Braid.
Midge Diamond Braidtop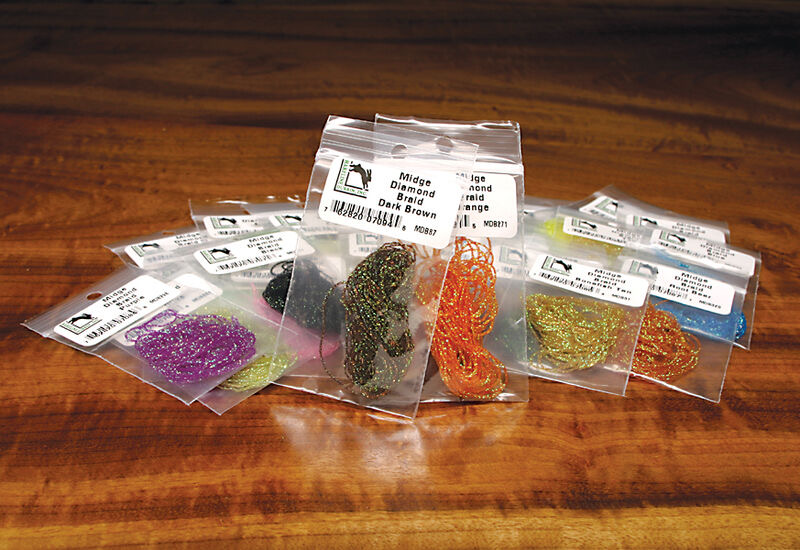 Midge version of our popular Diamond Braid
A midge version of our popular Diamond Braid. You can tie everything from midges to Bonefish flies with this material.
---
Lagartun
Flat Braidstop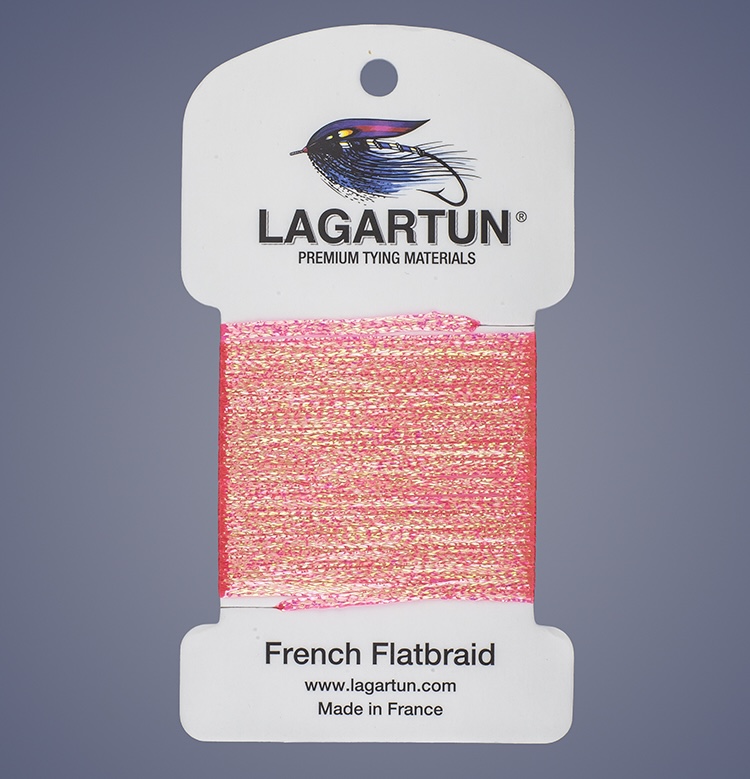 Big brother of our Mini Flat Braid
Our Flat Braid is the big brother of our mini flat braid. The only difference is it is wider and available in different colors. This has been exceedingly popular with the tube and intruder crowd but also the flats fisherman!
Flat Embossed Tinseltop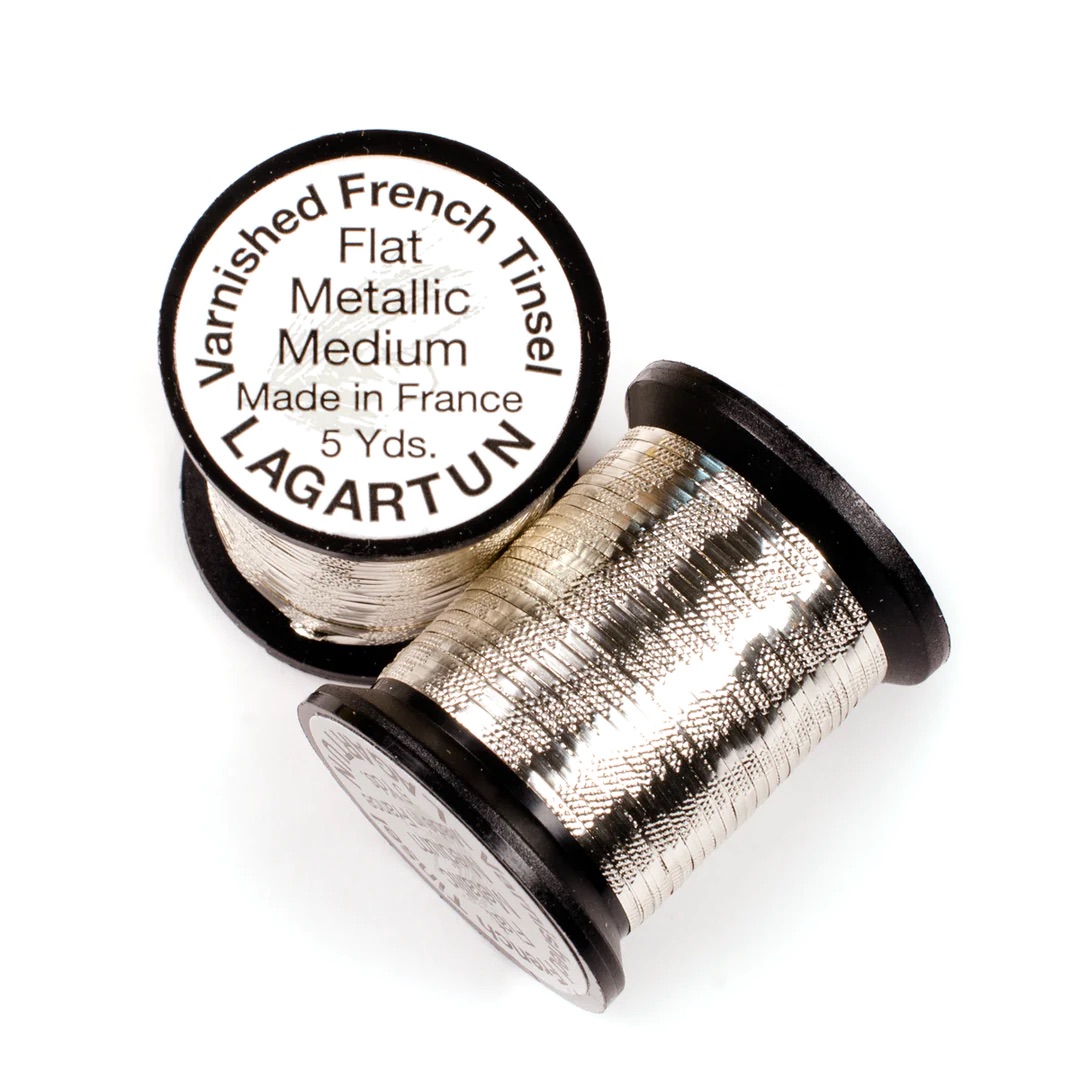 French Varnished
Lagartun's Embossed Tinsels are available in three different patterns: Plisse, Satin-Embossed, and Semi-Embossed. The base metal used for their embossed tinsels has been annealed, so they tie in and wrap easily around the bodies of flies without the "watch-spring" stiffness found in lower quality metal tinsels.
Flat Tinseltop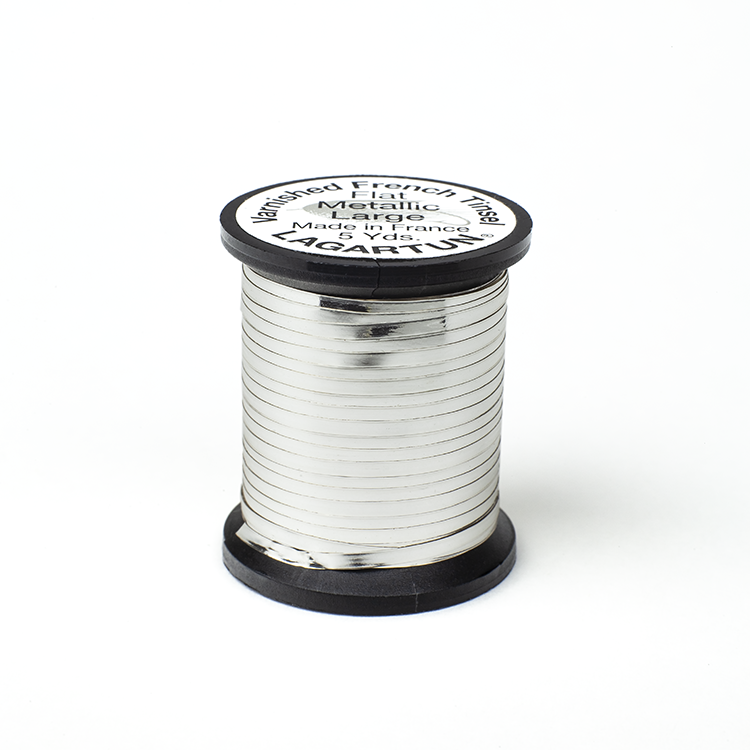 French Varnished
All flat tinsels are available in three sizes; small, medium and large. All these sizes are available in silver, gold and copper. These are staples for the majority fo Spey, Dee and Classic patterns, as well as other patterns. As with all of our other tinsels, these are varnished.
Mini Flat Braidtop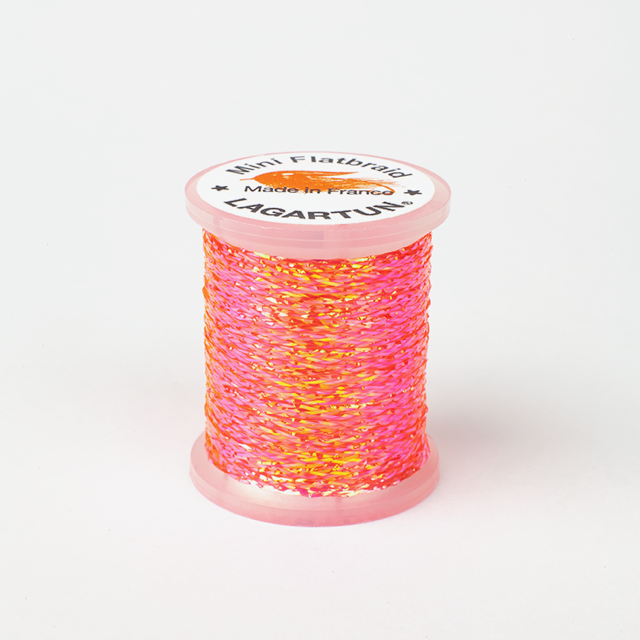 One of our best selling products!
Our mini flat braid is one of our best selling products! This is a true flat synthetic material that is available in many incredible colors. Very popular with the trout and salmon crowds alike and, we even know of some steelhead bums that use them as well. No matter what species you're targeting we have the colours for you.
Non-Tarnishing Wiretop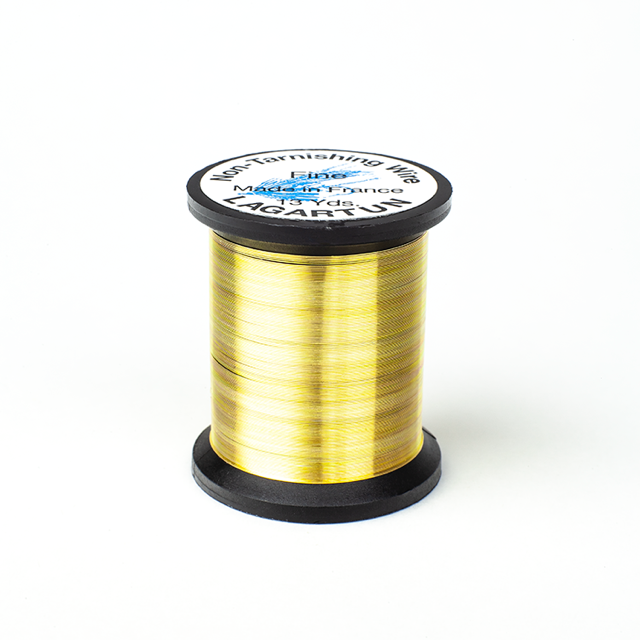 6 Colours
From XX Fine to Large, and 6 different colors. Check out our range now.
Oval Tinseltop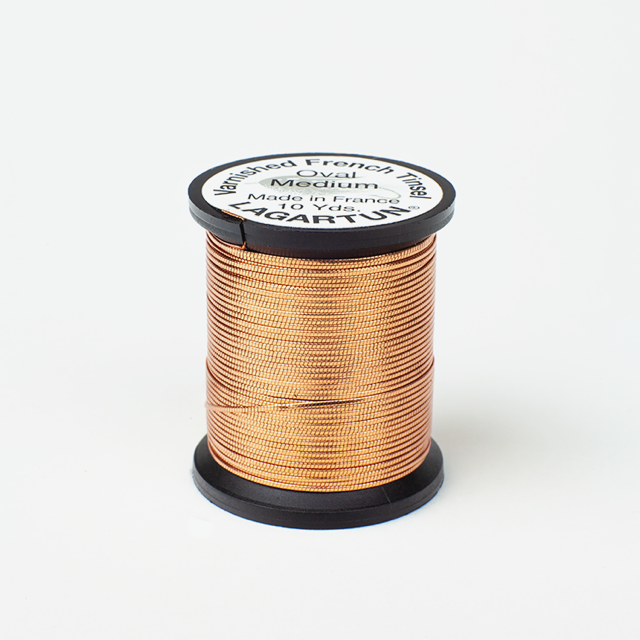 French Varnished
Much like the flat tinsels, our ovals are again a staple in so many different patterns. The size range from fine, small, medium and large. Silver and gold are available throughout the size range, copper is only available in small and medium. Our tinsels all are incredibly strong because we use a polyester core.
Silk Flosstop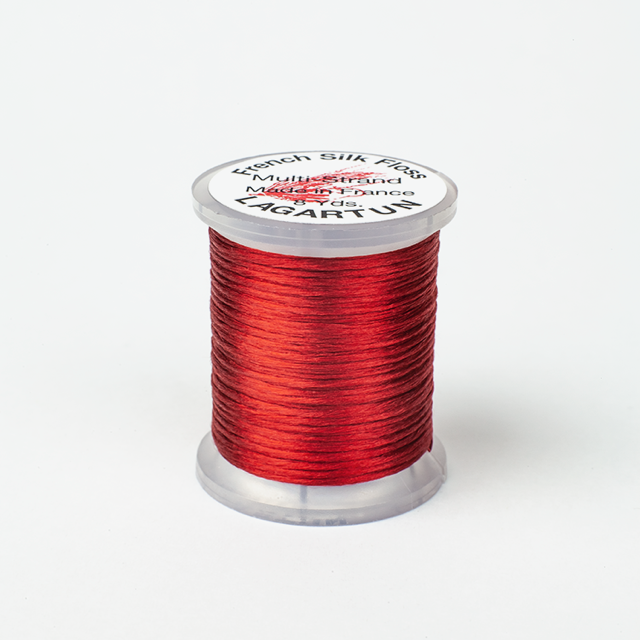 12 Sets of Fibers
Lagartun's silk floss was made to our own specifications. It is made of 12 sets of fibers that can easily be seperated. So if you are doing a tag or a full body you can decide exactly how many strands to get the look you want.
Threadtop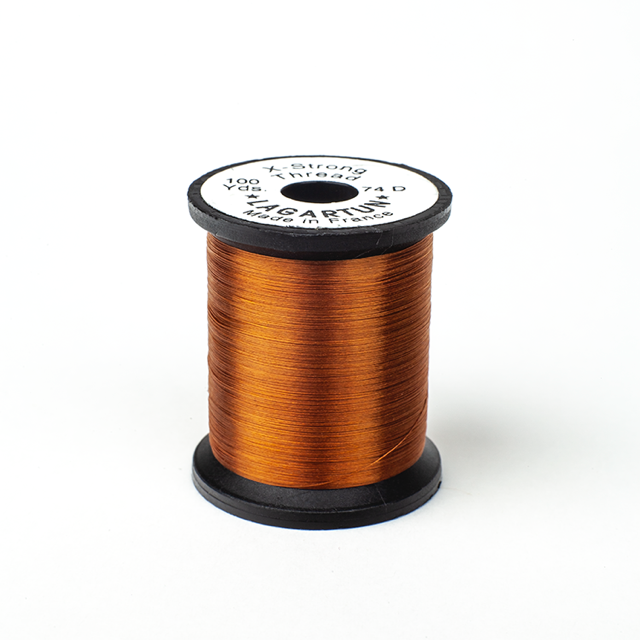 High Quality Threads
High quality threads, comes in 74D (~8/0), 94D (~7/0) and 150D (~6/0). 100 yards per spool.
Twist Tinseltop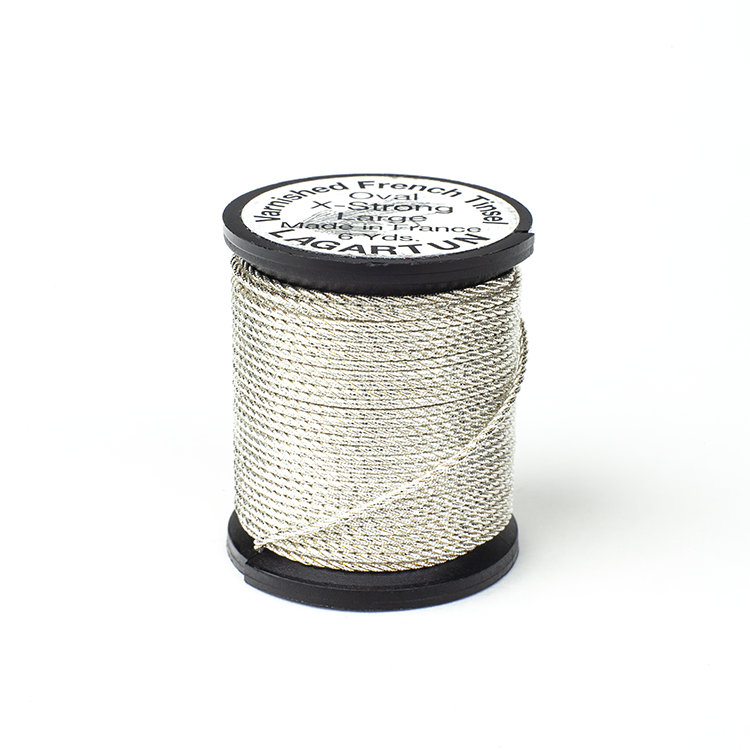 French Varnished
The Twist is a brand new product for us and is available in silver, sizes medium and large. It is made with three strands of round tinsel that get twisted together. The result is a beautiful material that reflects more light from many different angles. They are varnished just like all our other tinsels.
---
Semperfli
Classic Waxed Threadtop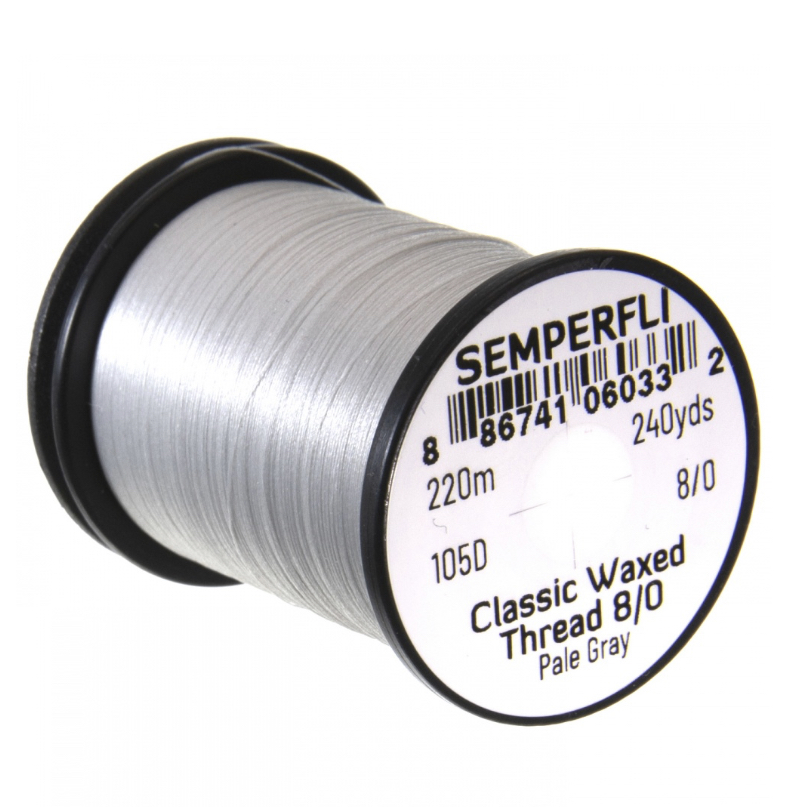 High quality polyester fly tying thread
240 yards per spool
Lays flat on hook
Just the right amount of wax on it for fly tying
Easy to split for dubbing
Breaking strain 26.6oz
Ideal for hook sizes 6 to 14
Nano Silktop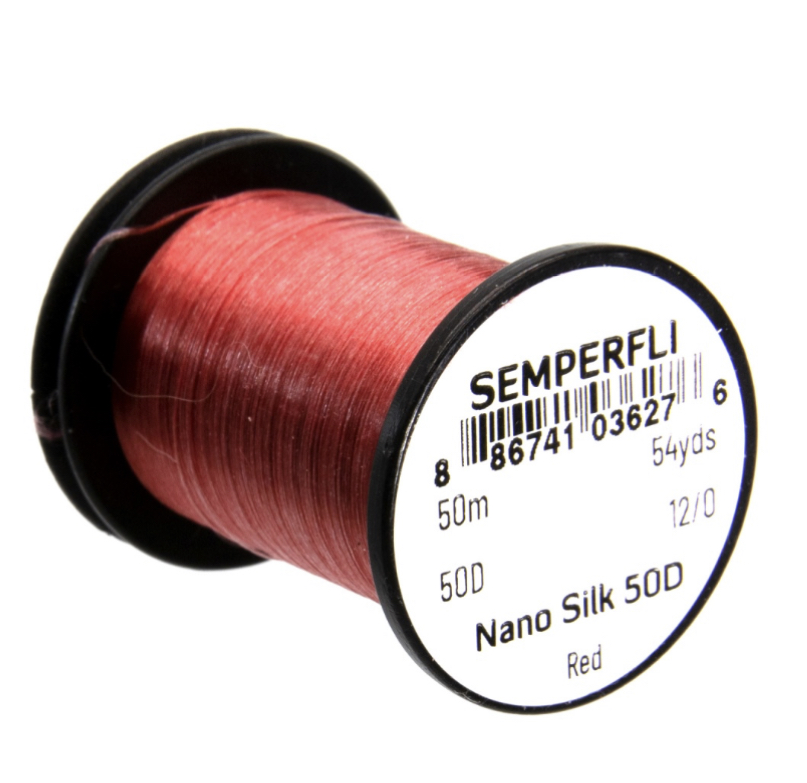 The best GSP on the market!
Nano Silk is regarded as the tying thread of choice of professional fly tyers worldwide and is the best GSP thread on the market! Being super strong and available in such a variety of colors and deniers it has endless possibilities and can be used for micro flies to large flies.
Tying Wiretop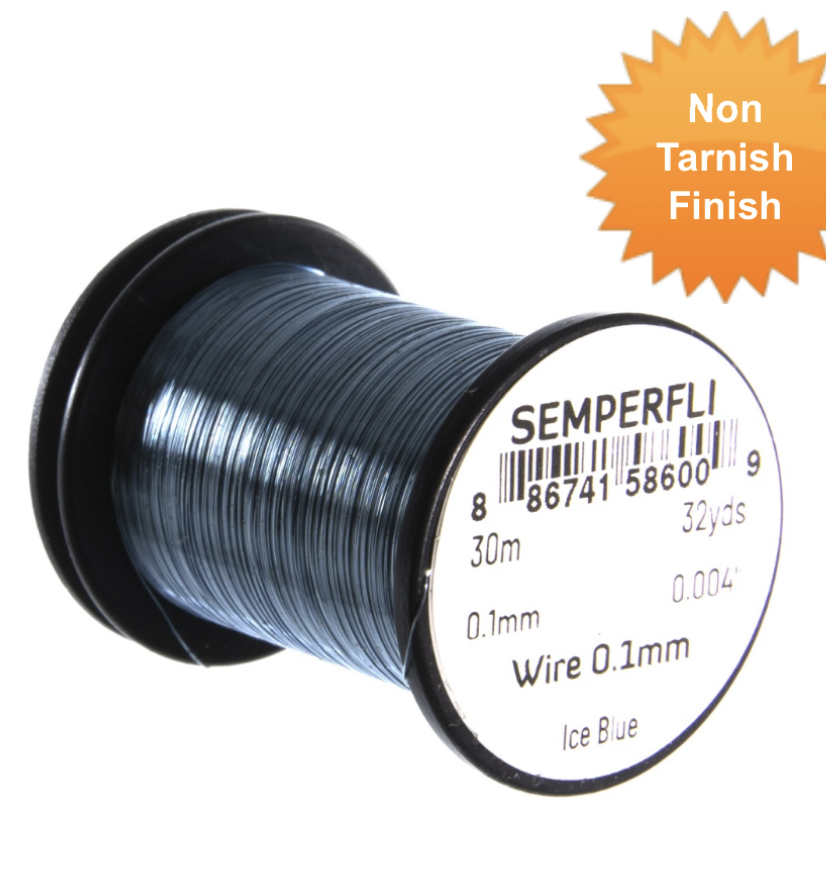 Ultrafine and Non-Tarnishing
Ultrafine fly tying wire, non tarnishing and can be used for even smallest dry flies. Our wire comes in a wide range of colours.
---
Sybai
Flat Wiretop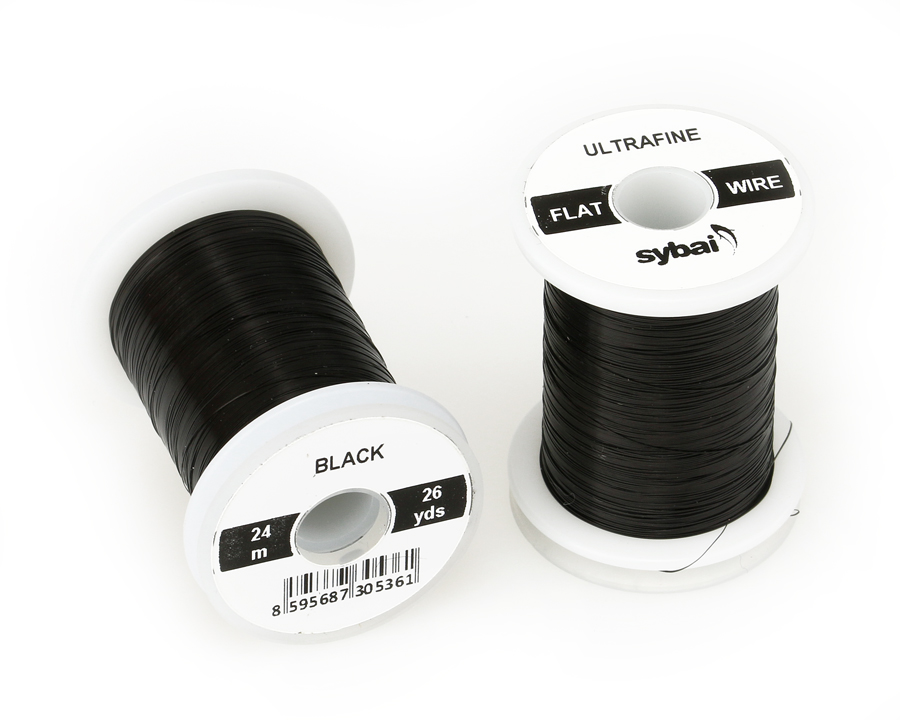 Enables a whole new range of fly tying possibilities
We are pleased to exclusively introduce to you the "Flat Color Wire". This exceptional product enables a whole new range of fly tying possibilities. The main advantage over a conventional round wire is the surface with very effective reflection and also a little more strength. When used in ribbing on the body it cuts less into the dubbing, which is enhancing the ribbing effect even more. Flat wire therefore combines the effect of tinsel and the strength of the wire! We offer a total of 6 variations, each in many colors - so it can be used for tying of all types of flies from micronymphs to really big streamers or salmon and sea flies.
---
Textreme
Midge Threadtop
75 denier
Midge Thread 75 den. Is a tying thread slightly texturized that comes in very brilliant colors, suitable to tie thin and smooth bodies, it is also good to create a base for biot and quill on very small bodies. Perfect for buzzers, it is also a good choice for nymph, wet and dry flies on hook sizes 16 to 22.
Power Threadtop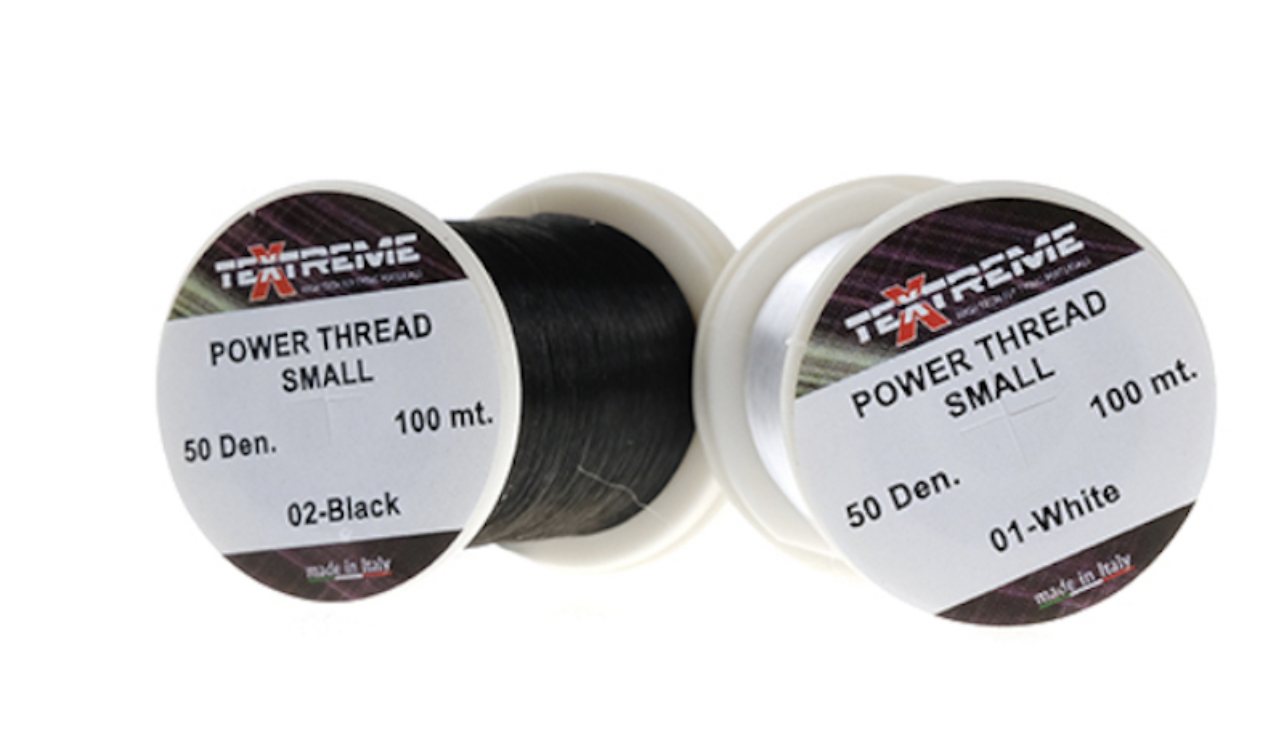 Small
Technical polymer with a very high breaking strain in relation to its diameter, up to ten times greater than a steel of equal diameter, suitable for tying flies where it is needed a very resistant but thin thread at the same time.
Multipurpose thread that covers a considerable range of uses, from the creation of smooth and uniform bodies, to the tying of difficult hairs such as elk and deer, to the possibility of split it down for dubbing twists.
Offered both in black (solid color that does not fade our during use) and in white that can be easily colored with a permanent marker.
Standard Threadtop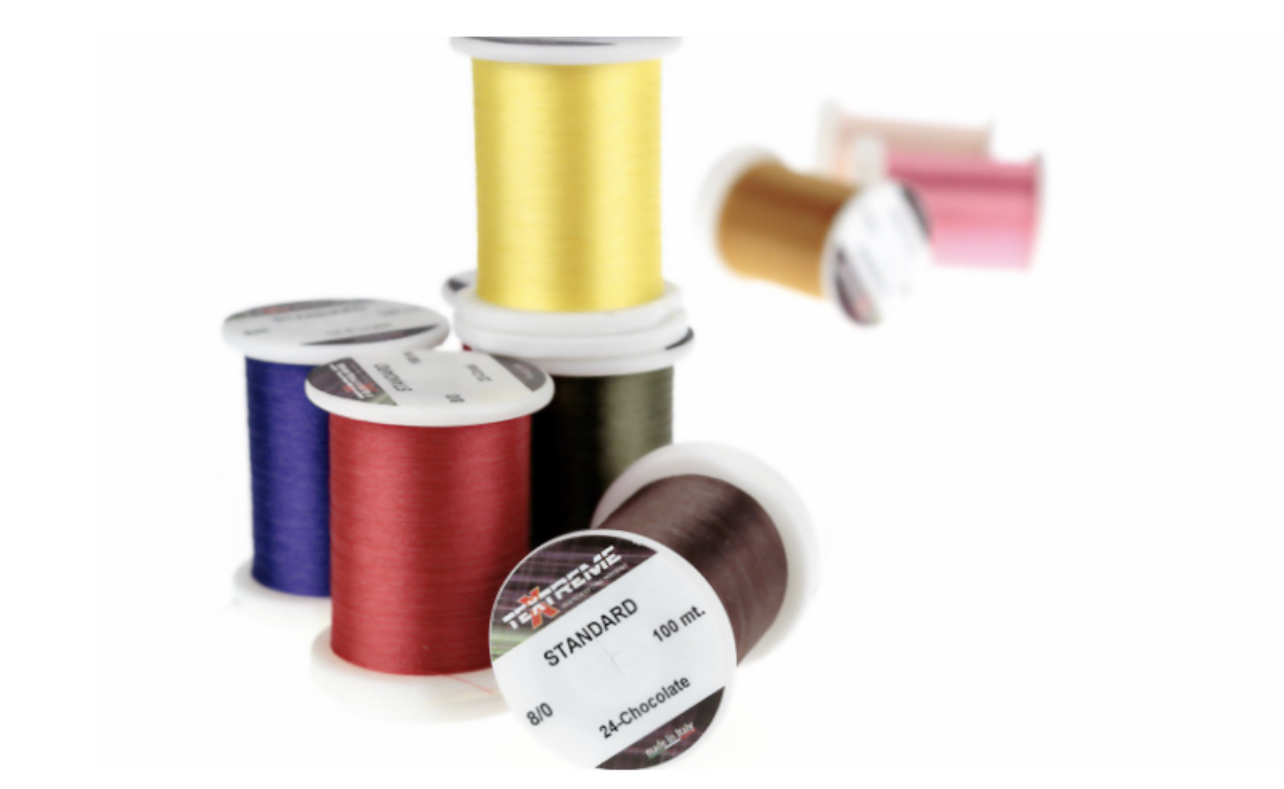 Standard 8/0
The standard tying thread used by most fly tyers. It is characterized by a particularly rough surface, which renders it suitable for tying any type of dubbing. It has excellent tensile strength in relation to its size, is suitable for tying thin and uniform bodies, and can be used on #16 to #24 hooks.
---
UNI Products
BigFly Threadtop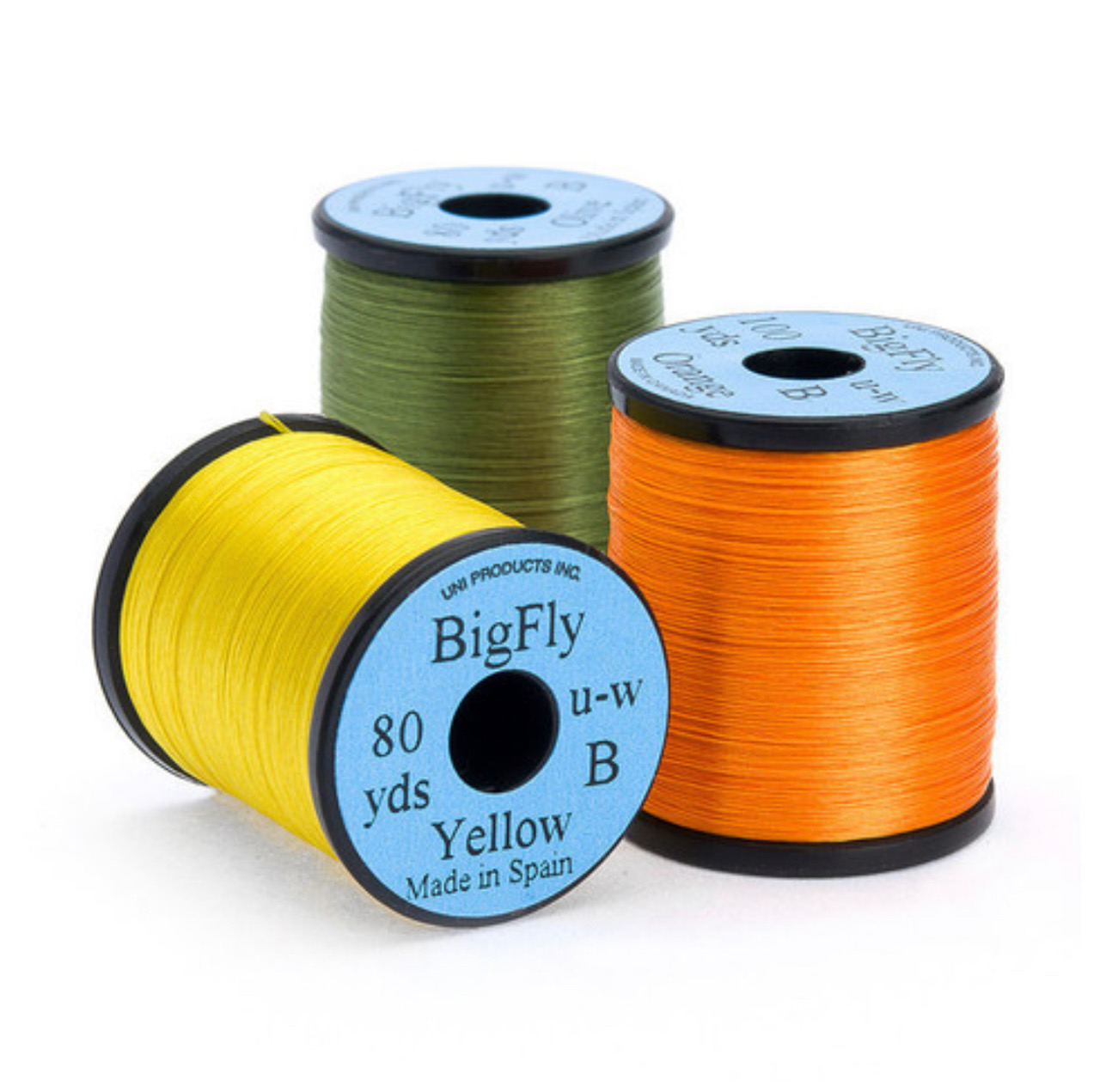 Very strong, easily-handled thread
Designed specifically for big saltwater flies, bass bugs and other tying applications where a very strong, easily-handled thread is necessary. Same material (polyester) as UNI 6/0 & 8/0 so it won't dull fly-tying scissors. 4 times stronger than a 6/0 thread and four times bigger too... Untwists quickly and easily for flat-thread applications.
Micro-Tinseltop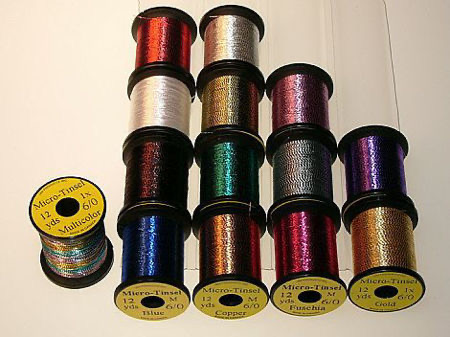 For those small flies where standard tinsels are too large!
For those small flies where standard tinsels are too large, try UNI Products Midro-Tinsel. This 6/0 round tinsel comes in fourteen colors. Each spool contains twelve yards of material. Three of the colors; Silver, Gold and Multicolor, are also available in 3/0 sizes.
UNI-Flexxtop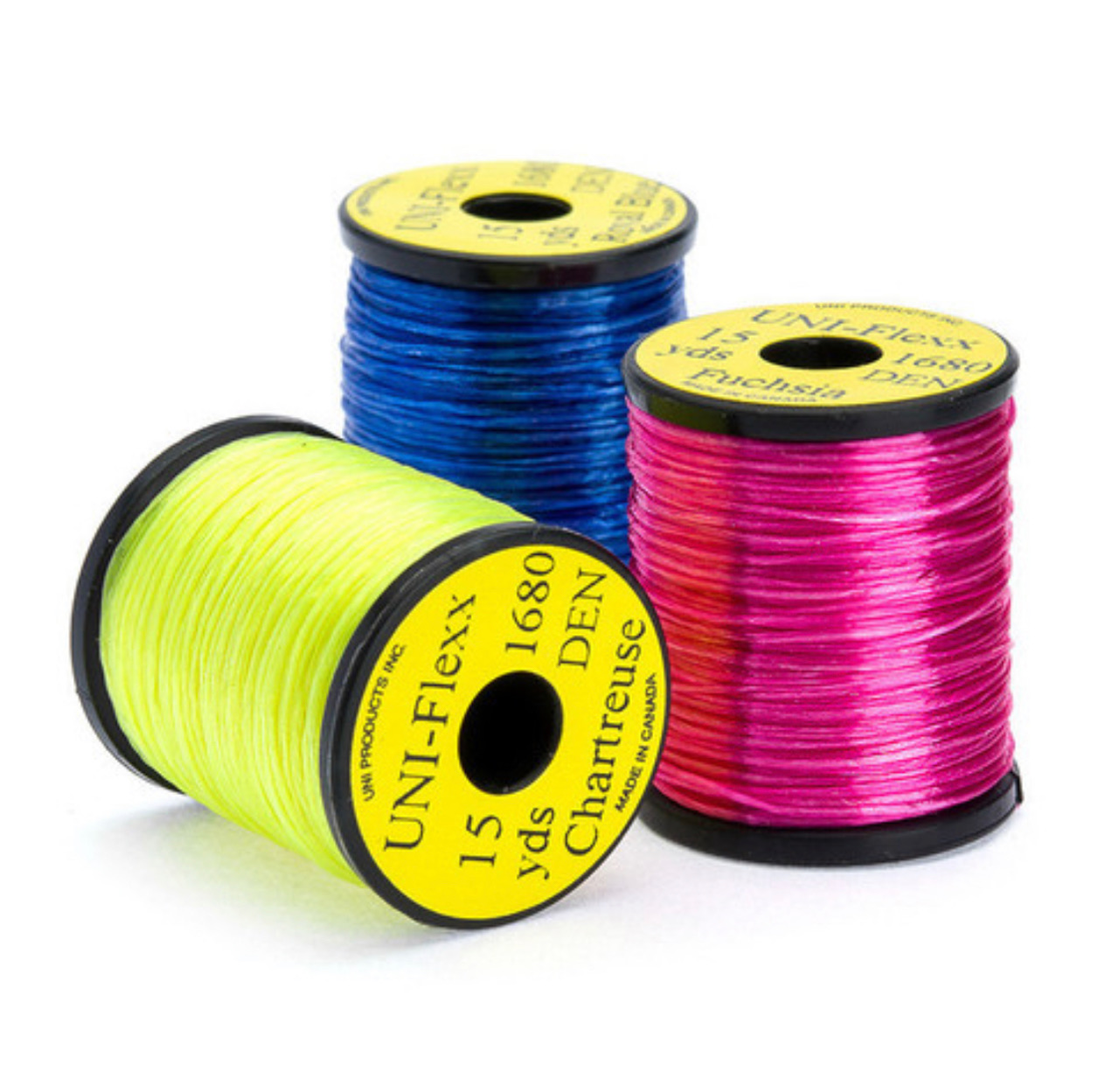 Lots of different uses!
UNI-Flexx can be used for: rubber legs and skirts: some like ir as a floss replacement because it is much easier to handle: bodies of small nymphs, larva, and pupa. The stretch permits the material to be laid on the hook with a variety of tensions, thus reducing or avoiding slippage. In many cases it is not the stretch which is most important, rather the texture and stiffness and availability in a variety of vibrant colours. Moreover, the material retains the original colour when wet, unlike many others. As usual, uses are only limited by the tier's imagination.
UNI-Flosstop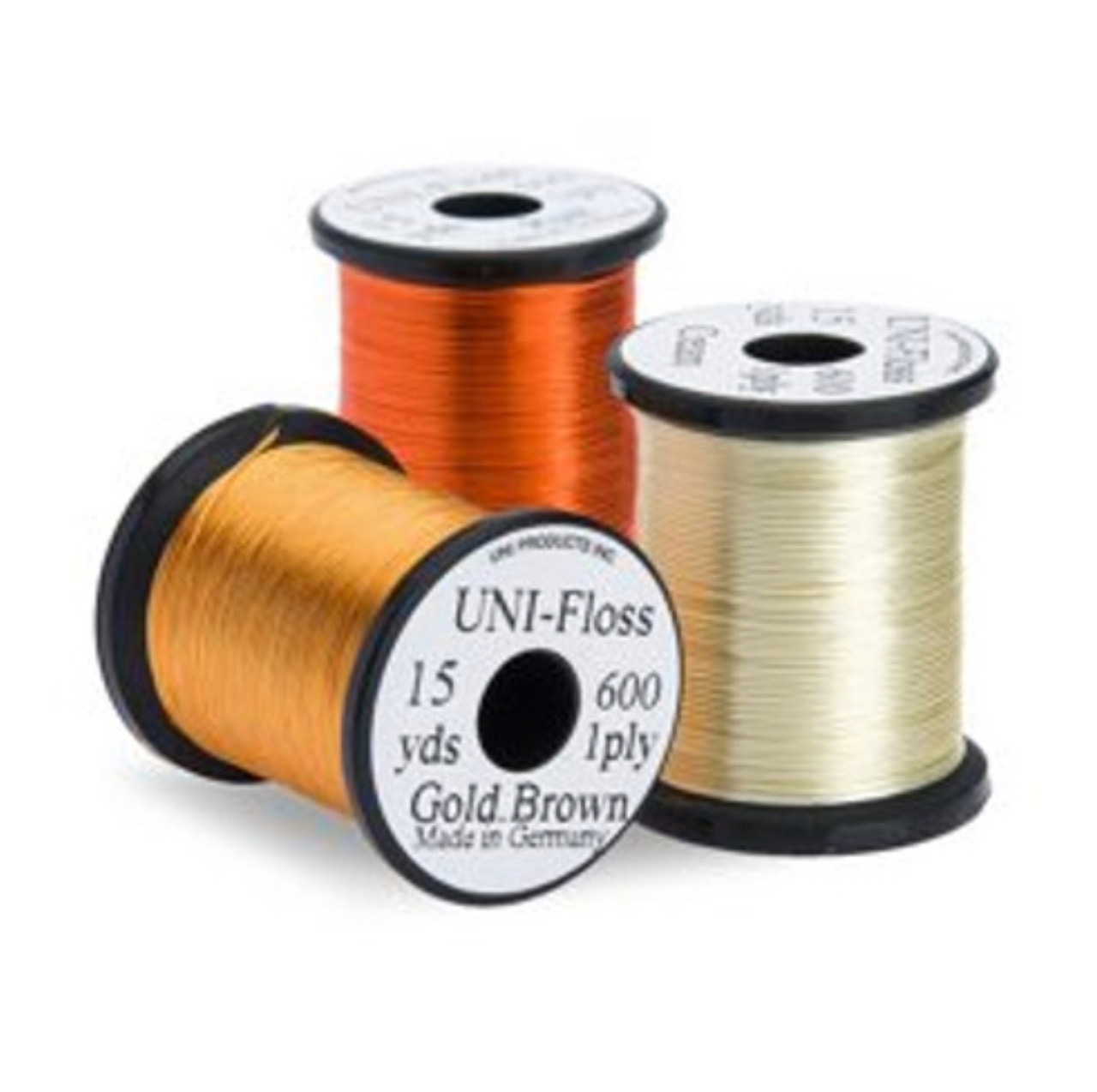 Rayon Floss
One of the most popular rayon floss on the market. Is used primarily for under body and external body areas. UNI-Floss is an all purpose body floss manufactured of 100% rayon. Uni-Floss is a single strand floss, 600 denier, strong and shiny.
UNI-Floss Neontop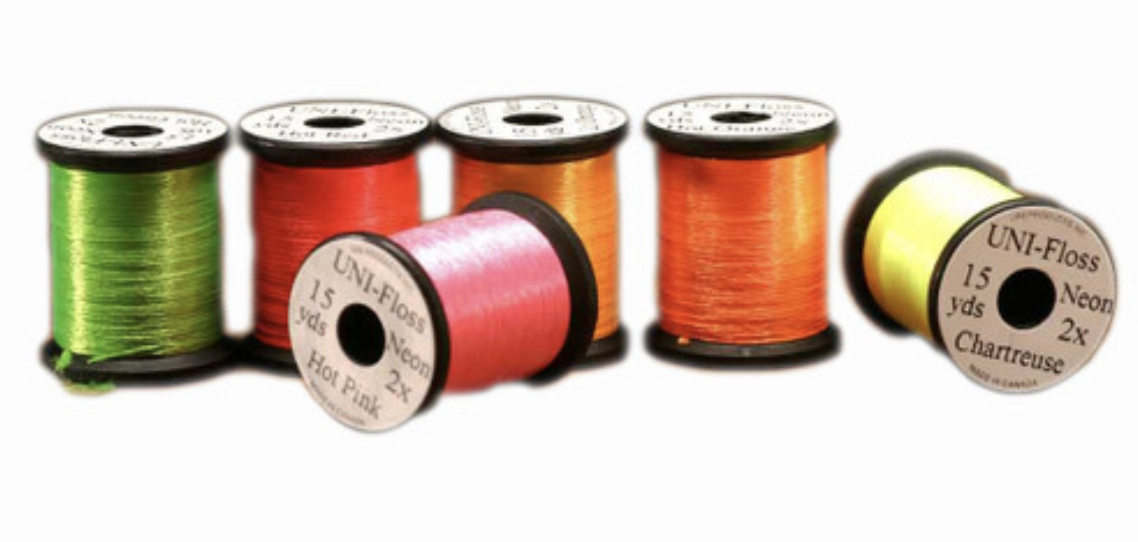 Super-Bright Fluorescent Floss
UNI-Products has introduced a new line of super-bright fluorescent floss, UNI-Floss Neon. A two-ply, 600 denier trilobal (like Antron) polyester, Neon has radiant sheen. While these are the colours commonly used for tags on salmon and steelhead patterns, the new floss will also add an extra zip to any floss-bodied pattern. Can be mixed with your dubbin to add some colours into it.
UNI-Mylar Flat Tinseltop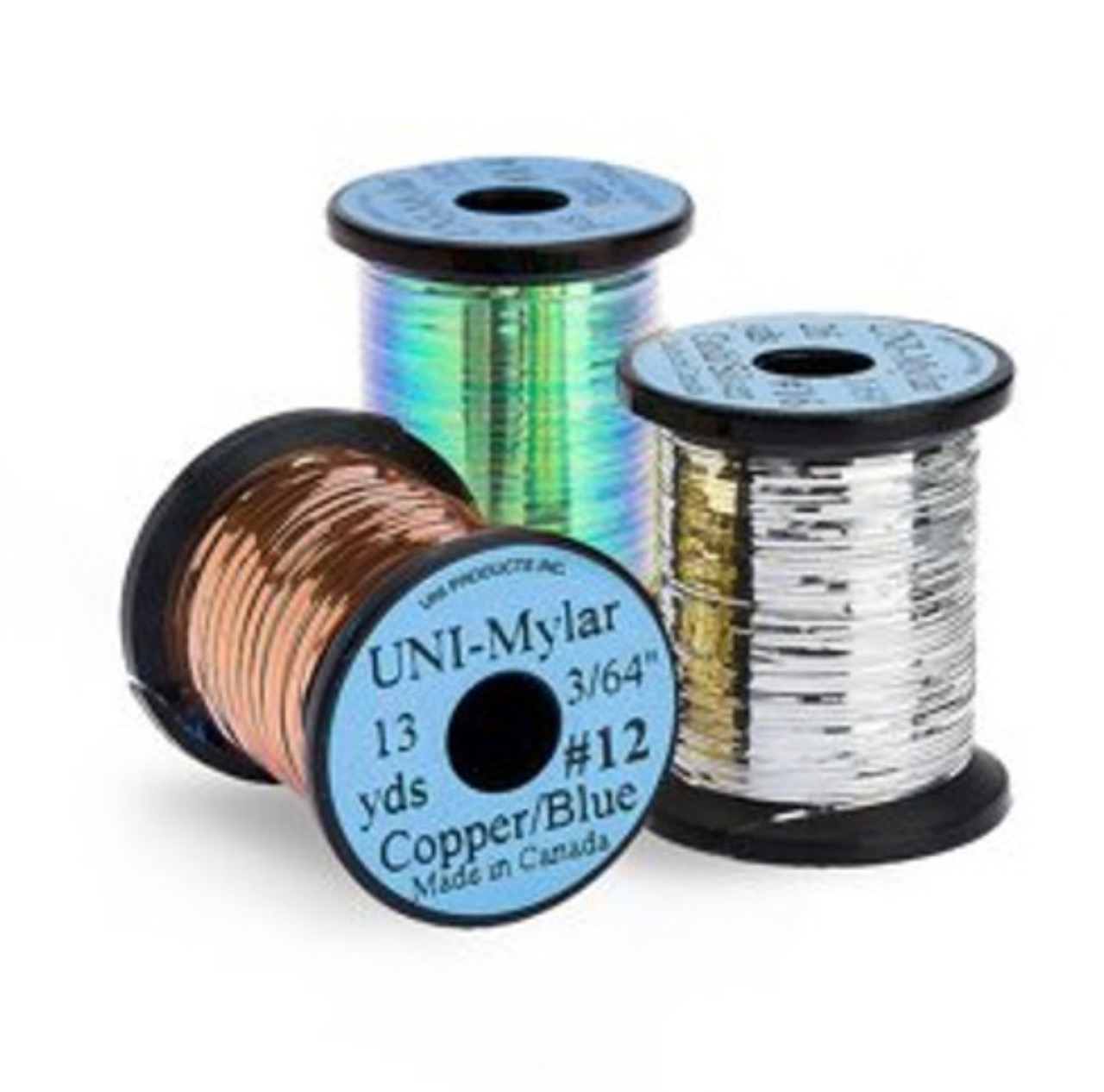 High quality metallic tinsel
Soft, high quality metallic tinsel. Used for ribbing and to form bodies. Non tarnishing is color on one side, different color on the other.
UNI-Mylar Holographic Tinseltop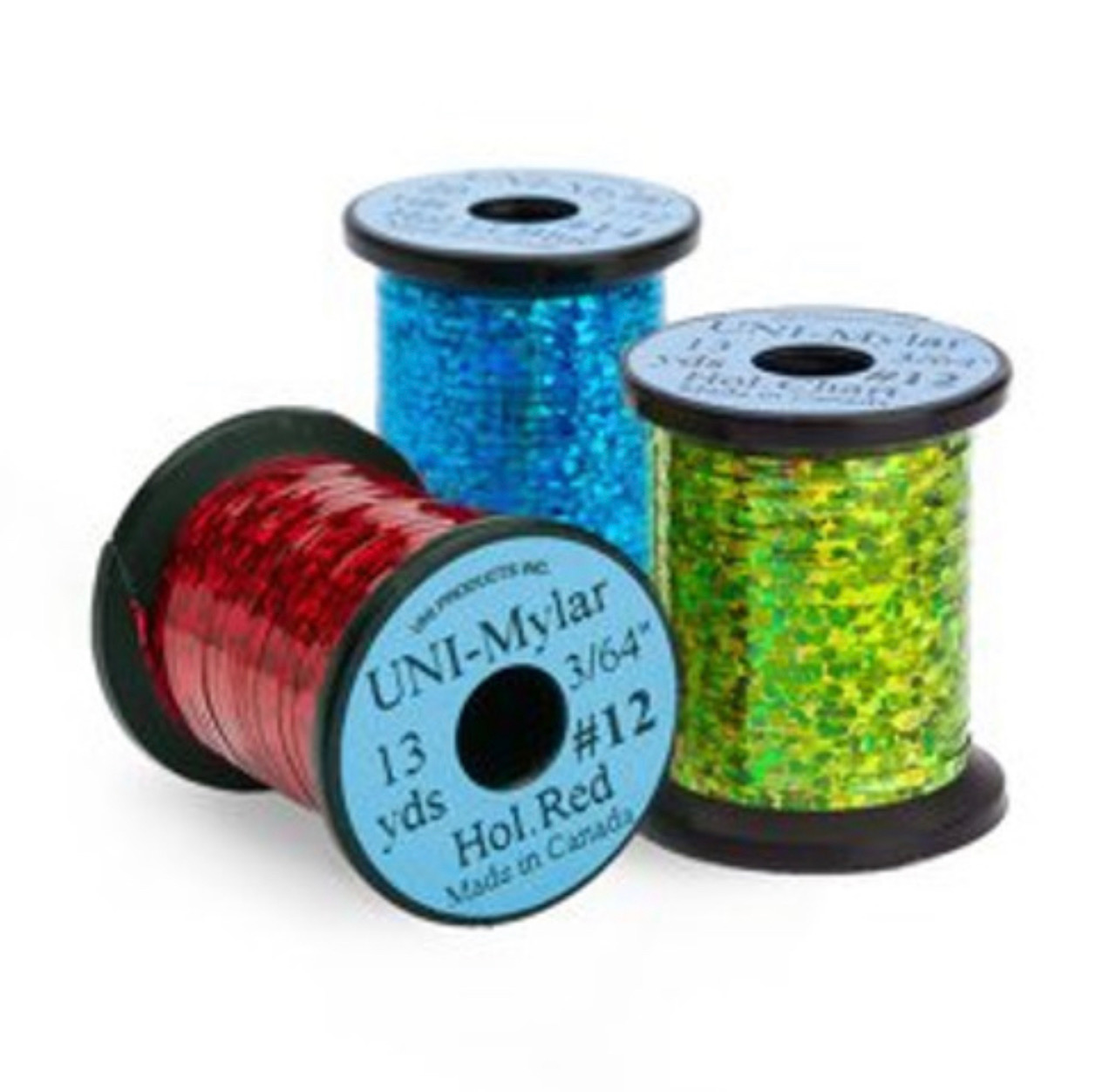 Multi color 3 dimensional looking flash
Multi-color 3-dimensional looking flash in fresh new colors. Create sparkling bodies, wing-cases and more.
UNI-Stretchtop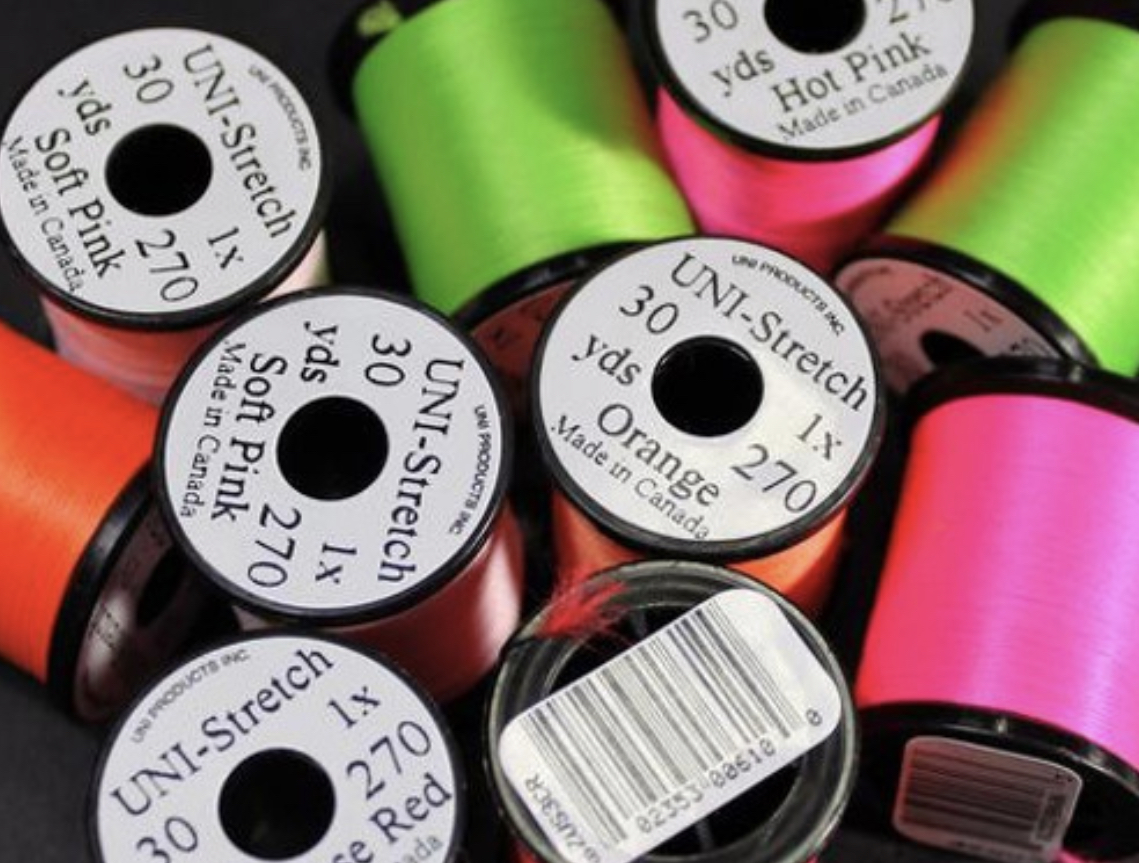 Ideal for shaping underbodies and a great gill material for Chironomids!
A rather thick, stretchy material that compresses and lays flat & smooth. Ideal for shaping underbodies on scuds. Tired of having strands of floss seperate and slide down the hook bend? An exclusive offering of UNI-Products, UNI-Stretch, will solve your problems. This stretch nylon material is easy to wrap, stays in place, and makes excellent underbodies as well. The White takes coloured markers very well so you can customize your patterns.
UNI-Threadtop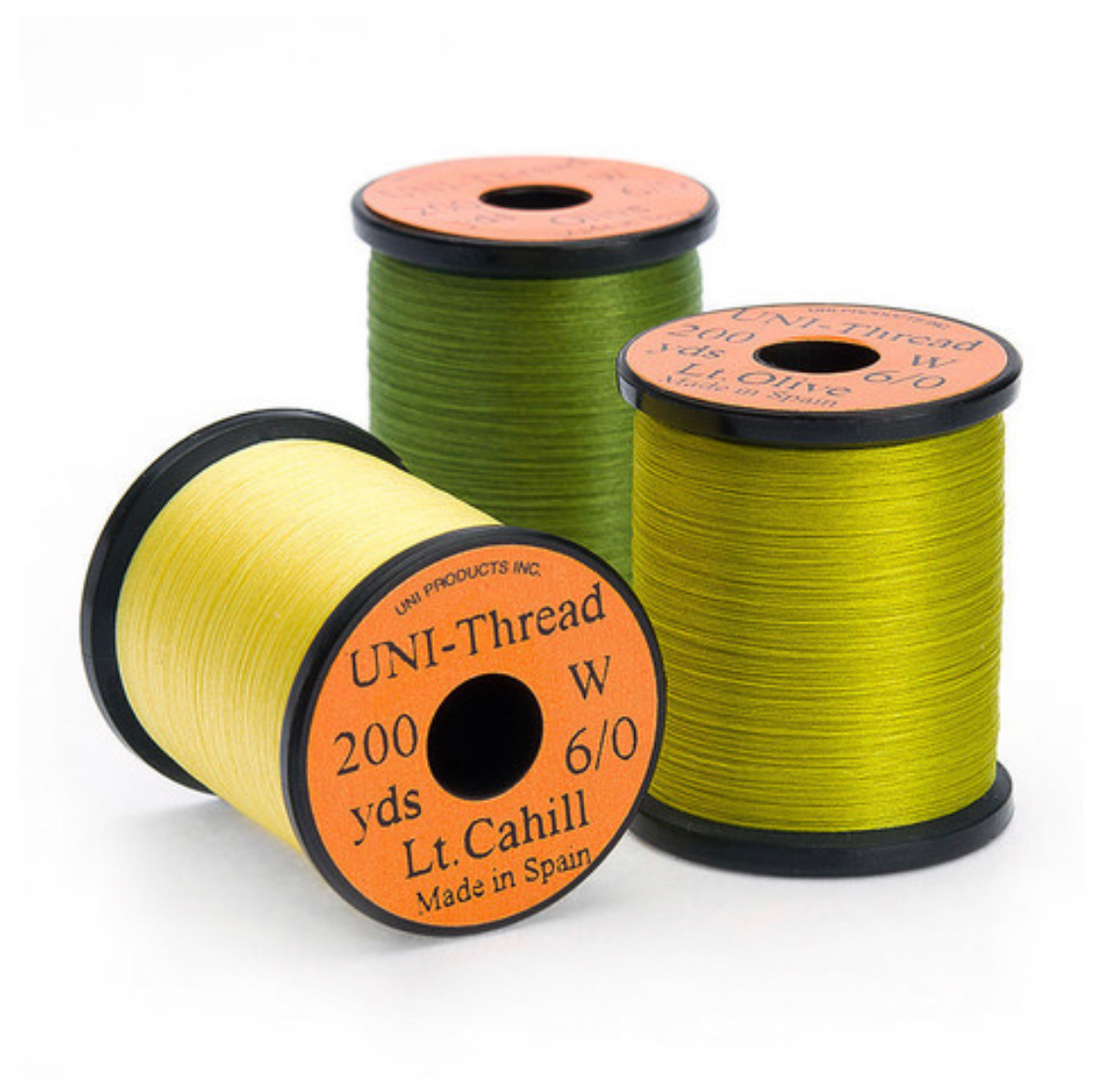 Un-Waxed 8/0, 6/0 & 3/0
UNI-Thread is a general fly-tying thread of continuous polyester filaments. The wide range of 25 colours meets virtually all fly-tying needs.
---
Veevus
Body Quilltop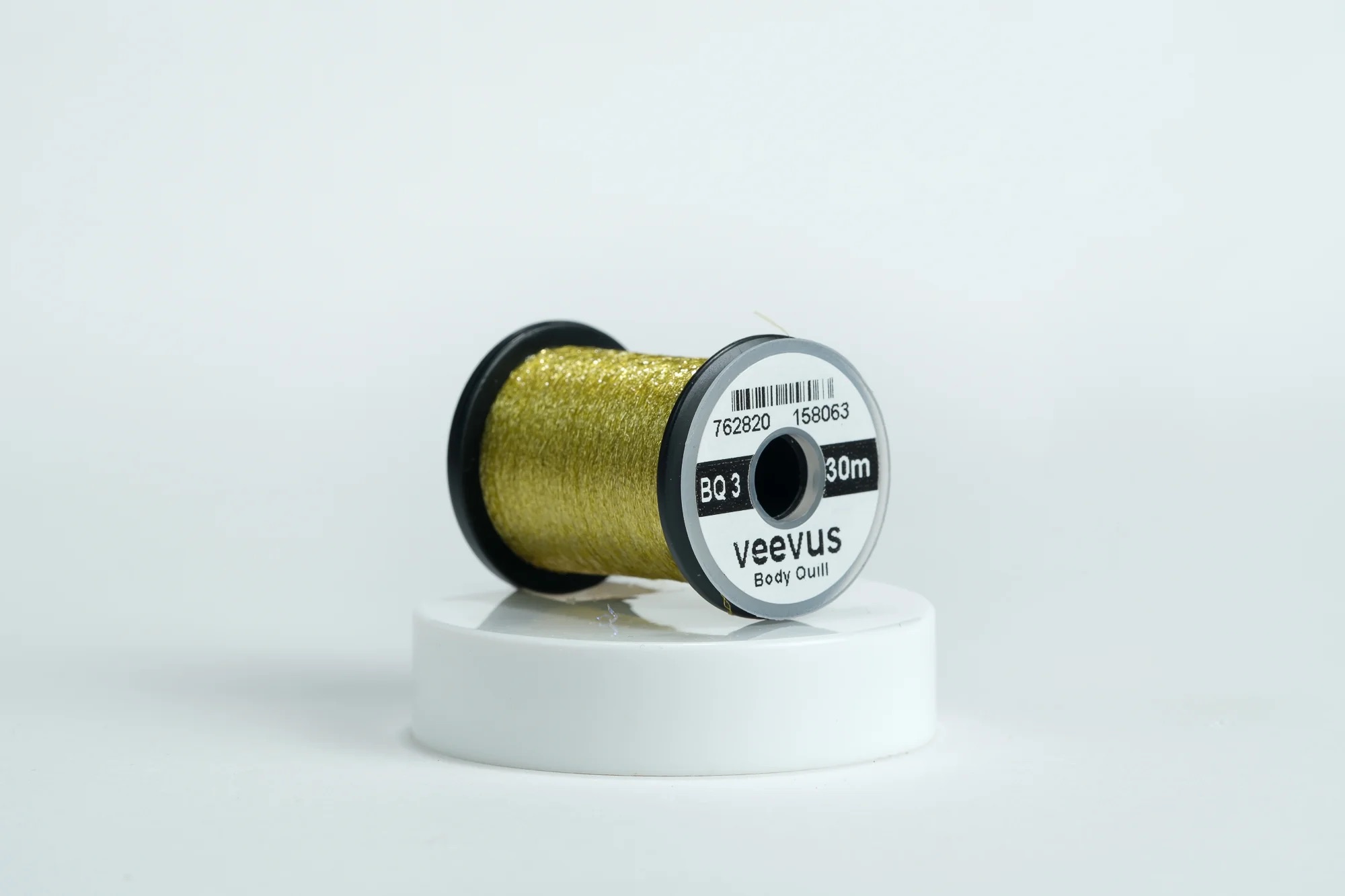 A new dimension of thread bodies
The VEEVUS Body Quills offers a new dimension of thread bodies. A synthetic material that is different than other quill materials. When you coat this thread material with UV resin, you'll be amazed at the bodies you can create. Each spools contains 30 meters of thread.
French Tinseltop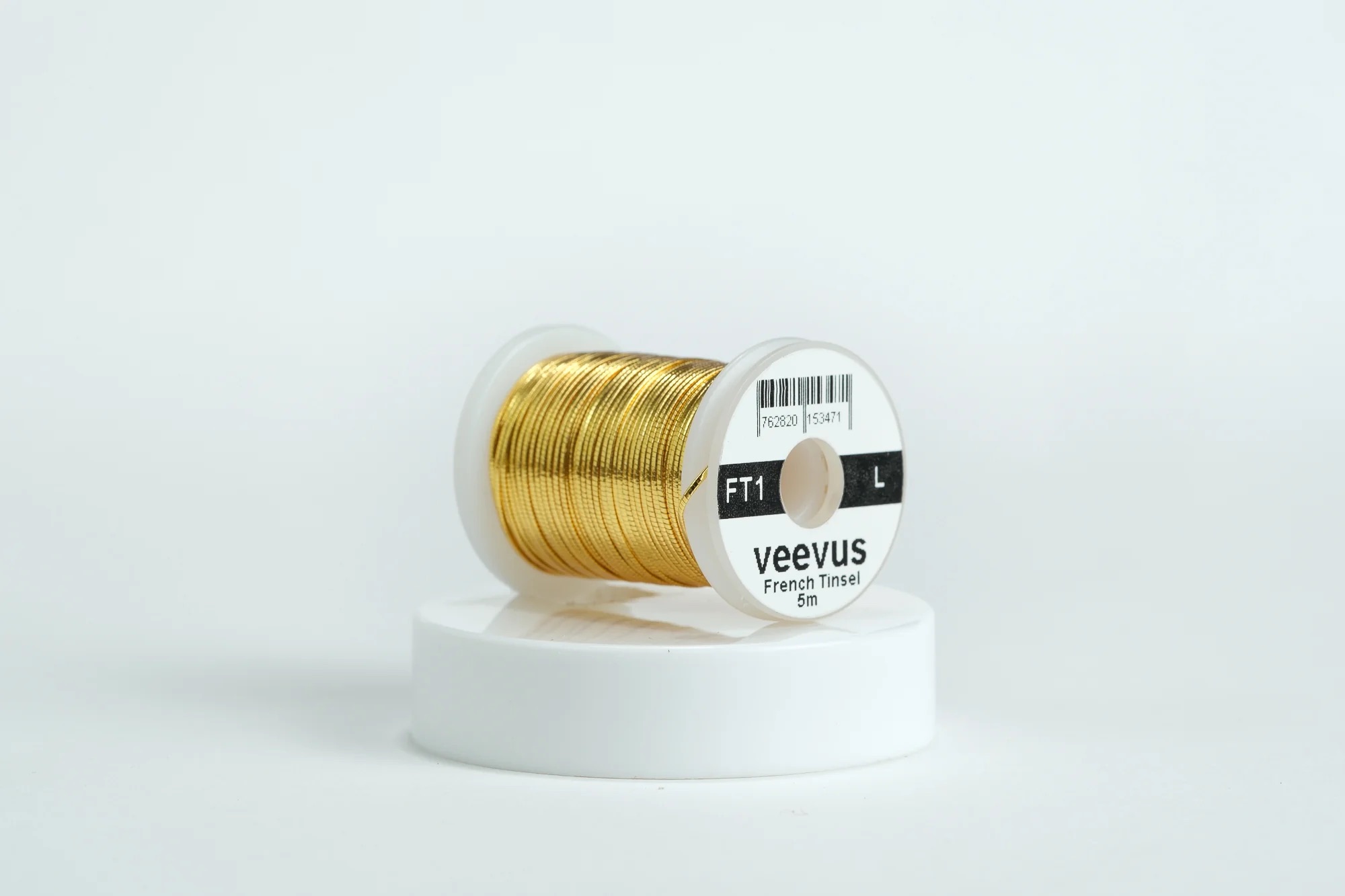 Oval French Tinsel
VEEVUS French Tinsel is built differently from other oval French Tinsels on the market. It's much stronger, which gives you the ability to wind it nice and tight around the hook. Furthermore, it won't "open up" while winding.
Holographic Tinseltop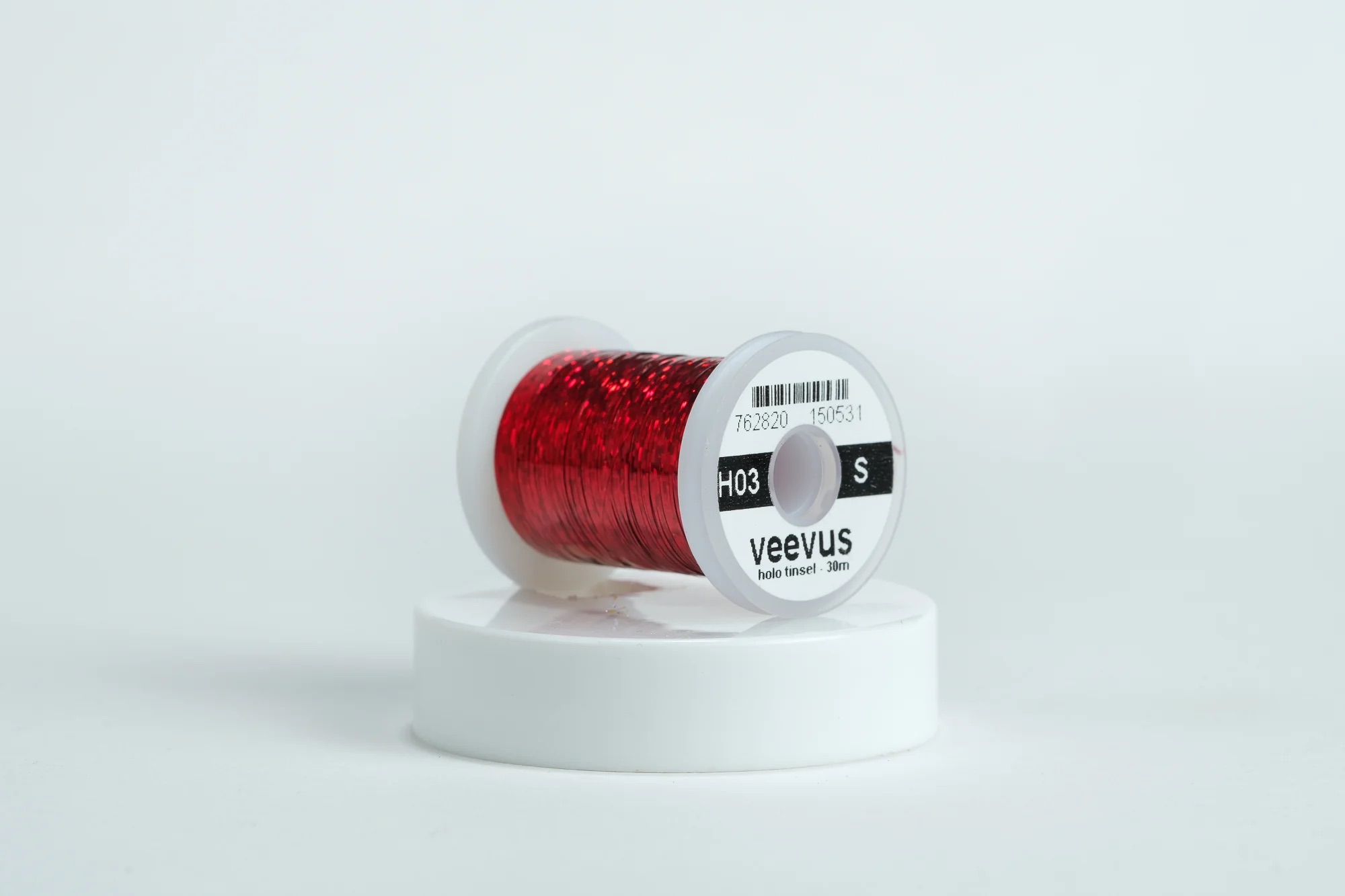 Adds texture and shine to any fly
With VEEVUS Holographic Tinsel you can easily add texture and shine to any fly as an underwing, fly body or as flash on a streamer. Available in a 18 different colors and 3 sizes.
Power Threadstop
Super strong and lies flat
VEEVUS Power Threads are super strong and lie flat on the hook, giving you maximum control. They are available in 3 sizes (70, 140 and 240), in 10 colors.
Threadtop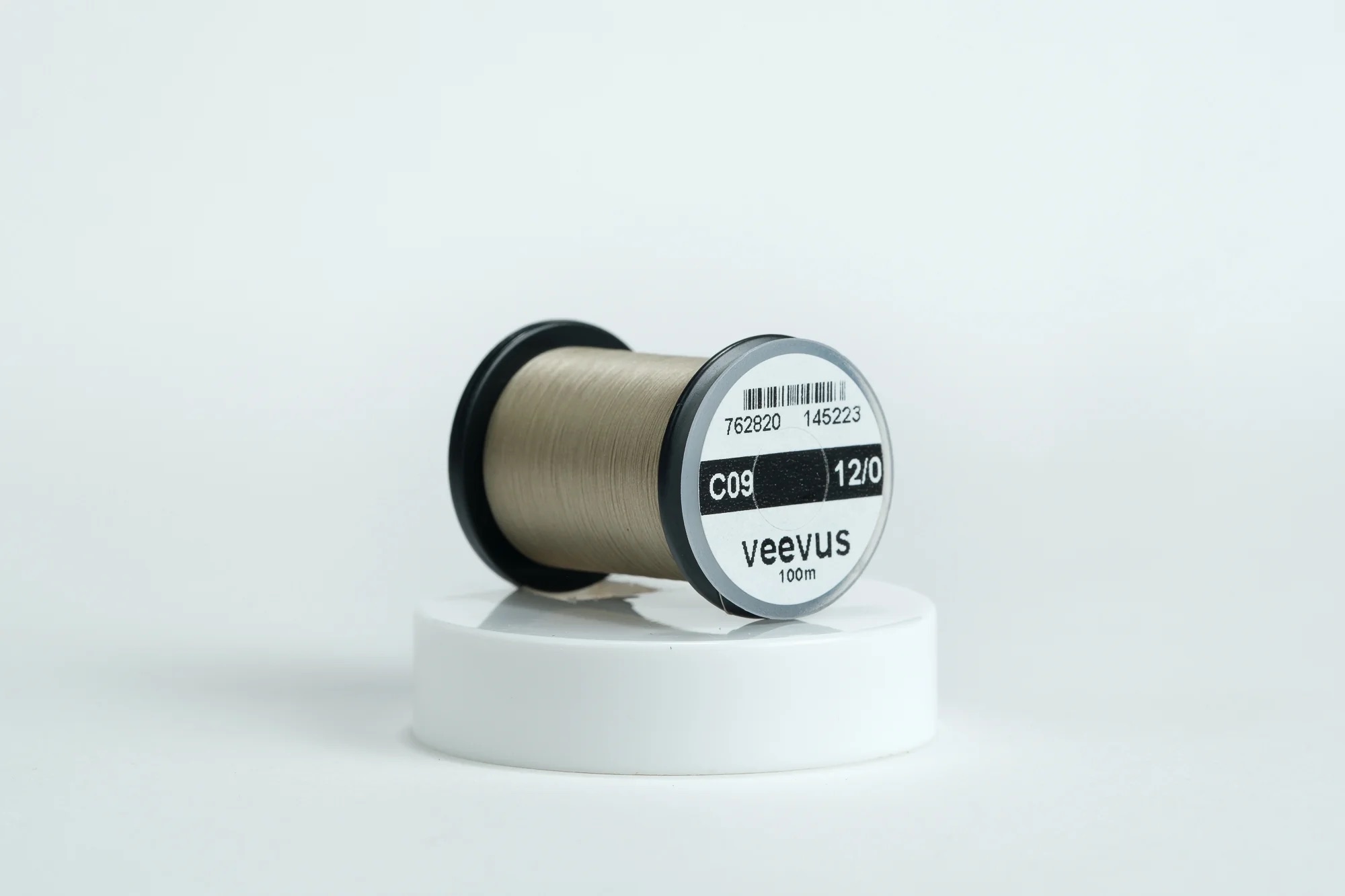 Strongest thread on the market
The traditional VEEVUS Threads, which are the strongest on the market. Each spool has 100 meters of thread.
---
Wapsi
Sparkle Braidtop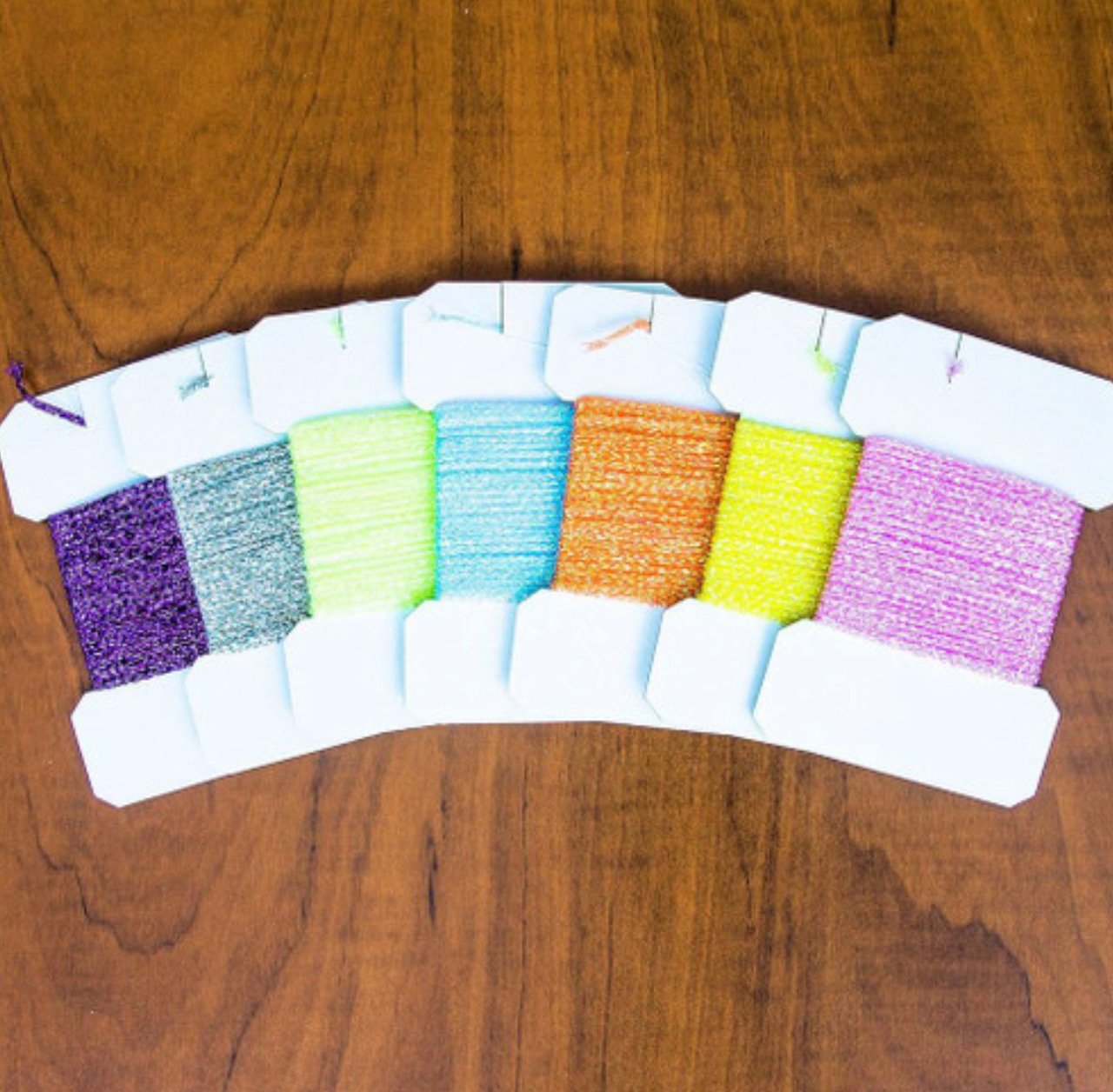 Cordlike material used for bodies
Wapsi Sparkle Braid contains several strands of mylar knitted into a cordlike material. Sparkle Braid is the main ingredient for muddlers and many saltwater patterns. It is perfect for a flashy body that is easy to apply and very durable.
UTC Flat Mylar Tinseltop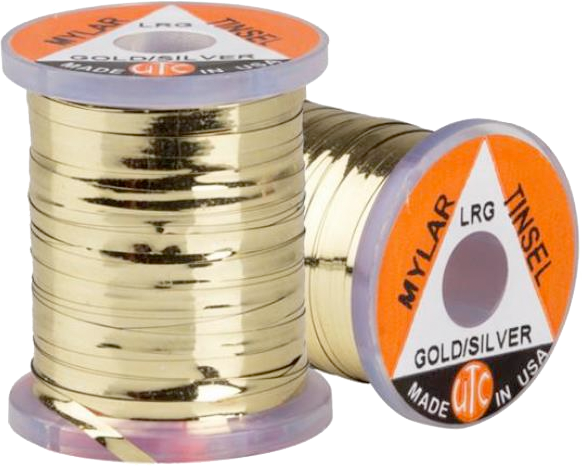 Wapsi Flat Mylar Tinsel is a two-tone tinsel with gold on one side and silver on the other.
Wapsi Flat Mylar Tinsel is a two-tone tinsel with gold on one side and silver on the other.
Many classic fly patterns such as the Black-nosed Dace and Muddler Minnow call for a body made with flat tinsel. Unlike the tinsels of yesteryear, Ultra Tinsel is very strong and wraps perfectly flat, making beautiful, durable bodies. In addition to being used on traditional streamer patterns, Ultra Tinsel is ideal for flashback nymphs, midges, and saltwater flies. The uses of Ultra Tinsel are as broad as the imagination of the fly tyer.
UTC French Oval Tinseltop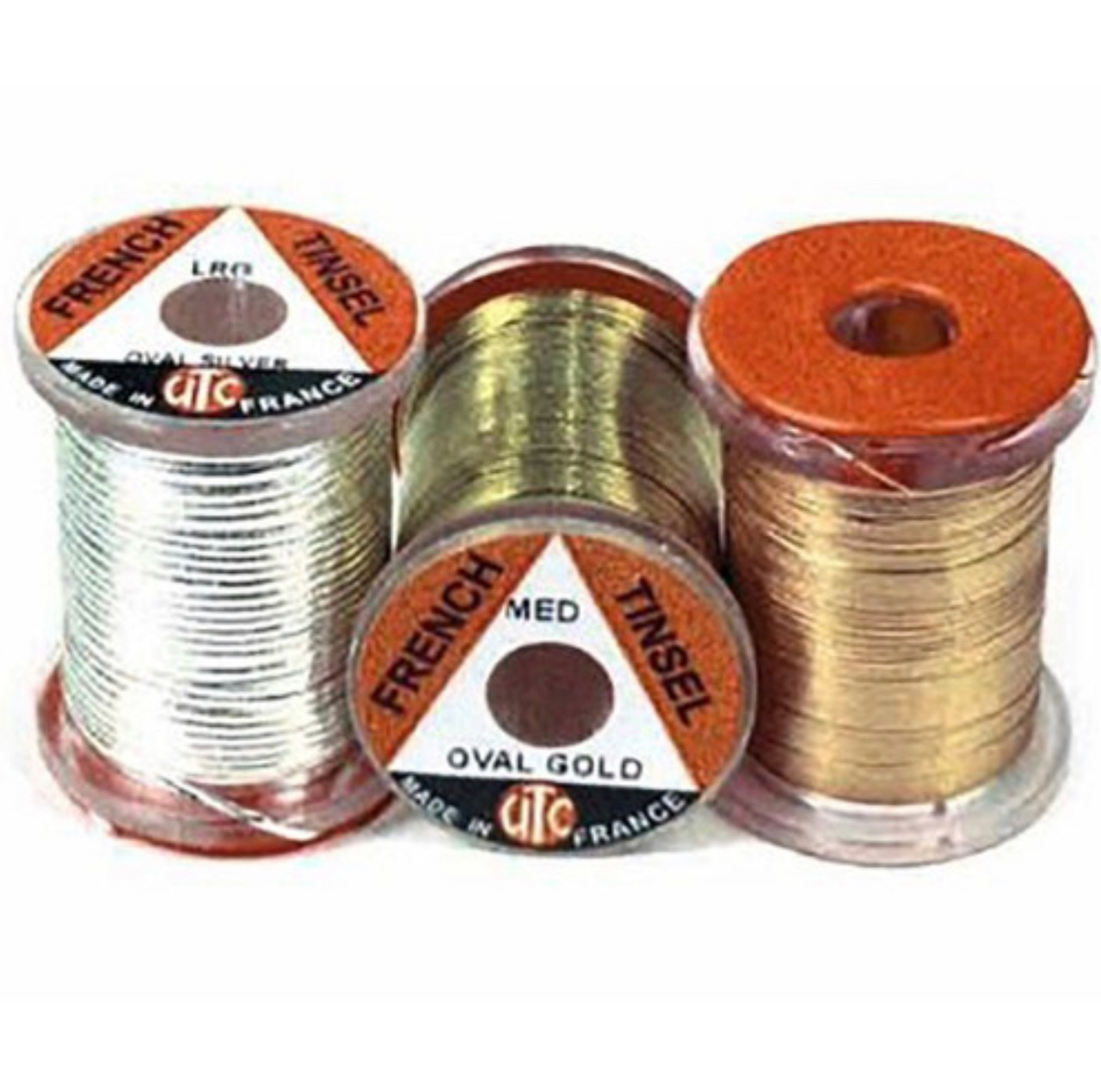 Varnished French Tinsel
Genuine French Tinsel, varnished to resist tarnishing. An extra strong core provides strength for longer lasting flies. The tinsel is imported in bulk and spooled in the U.S. by Wapsi at a much lower price to you. Lengths range from 20 yds (XS to Small) to 6 yds (Large).
UTC Holographic Tinseltop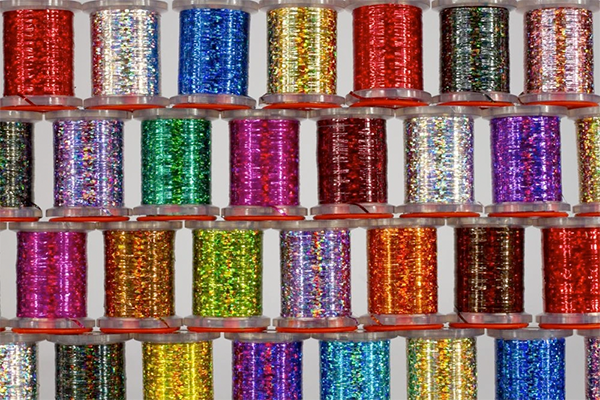 Brightens up flashback nymphs or bodies
Wapsi Holographic Tinsel brightens up flashback nymphs. This is a bright 3-D holographic tinsel. Use for tinsel body streamers like the Black-nosed Dace and Muddler Minnow.
This is real French Tinsel. We import and spool our own. A top quality, classic varnished, metallic tinsel, it Will not tarnish.
Designed for flashback nymphs, Flashback Tinsel is a 1/16″ flat tinsel in a great range of colors.
Add maximum flash to your flies with premium UTC Holographic tinsel. This is the brightest, most durable holographic fly tying tinsel available, and it will add life and movement to even the dullest patterns. A must-have for any fly tyer, especially when confronted by heavily-fished waters and reluctant takers
UTC Mirage Tinseltop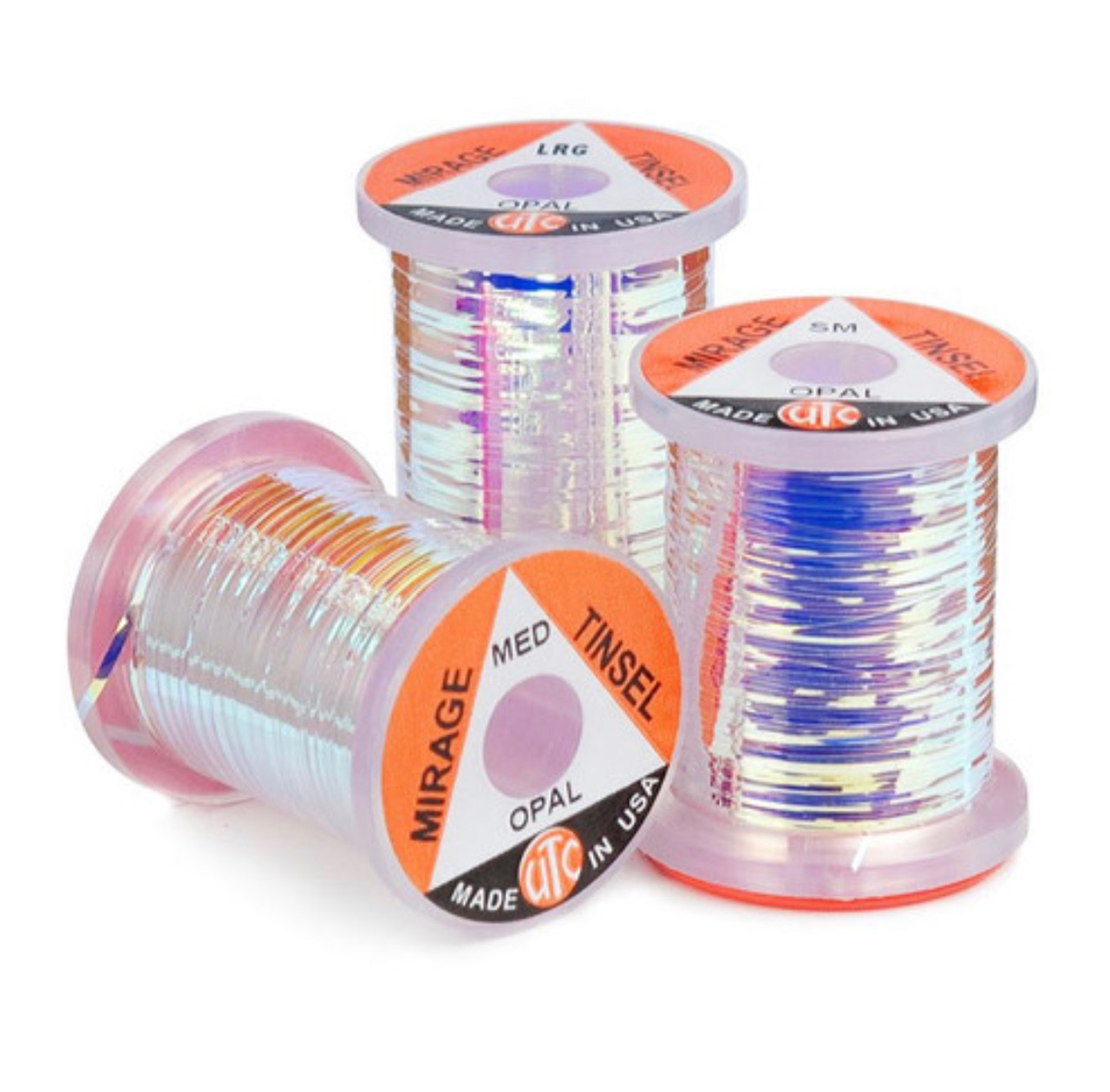 Reflective Flat Tinsel
Reflective tinsel with color shifting, mirror-like properties. It creates an iridescent, chameleon effect. Perfect for flashbacks.
UTC Pearl Tinseltop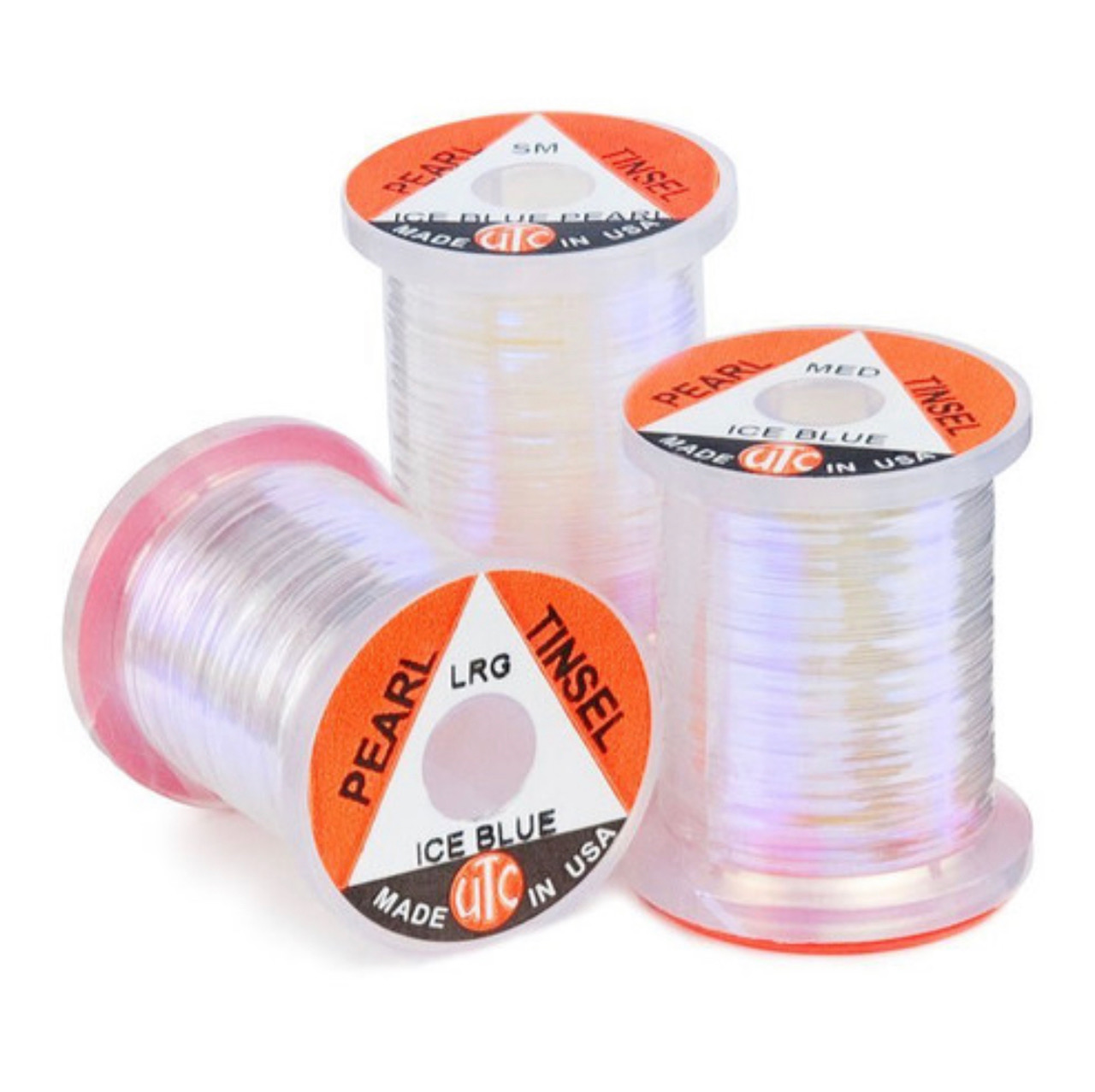 Ice Blue and Regular Pearl
A popular choice among both fresh and saltwater fly tiers alike, UTC's Flat Pearl Mylar Tinsel is perfect for creating flashy shellbacks and wingcases on nymphs, great for ribbing wet flies and dries, and makes magnificent wound bodies on streamers too.
Ice Blue Pearl Tinsel is the newest addition to the UTC family of threads and tinsels. Its U.V. cool blue color looks awesome on the back of a scud or flashback nymph or wrapped over a midge body or used as ribbing.
Available in 3 sizes
UTC Round Lead Wiretop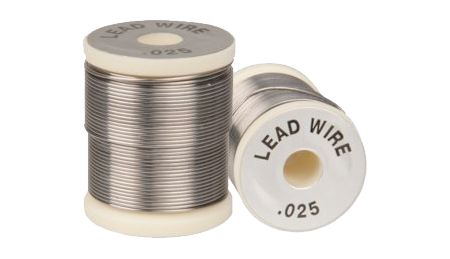 UTC round, soft lead wire is an essential fly tying product on most tyers benches.
UTC round, soft lead wire is an essential fly tying product on most tyers benches. Simply wind the wire around the hook to give your fly the needed weight to sink to the depths.
Available in 6 sizes:
.010″
.015″
.020″
.025″,
.030″
.035″
UTC Ultra Threadtop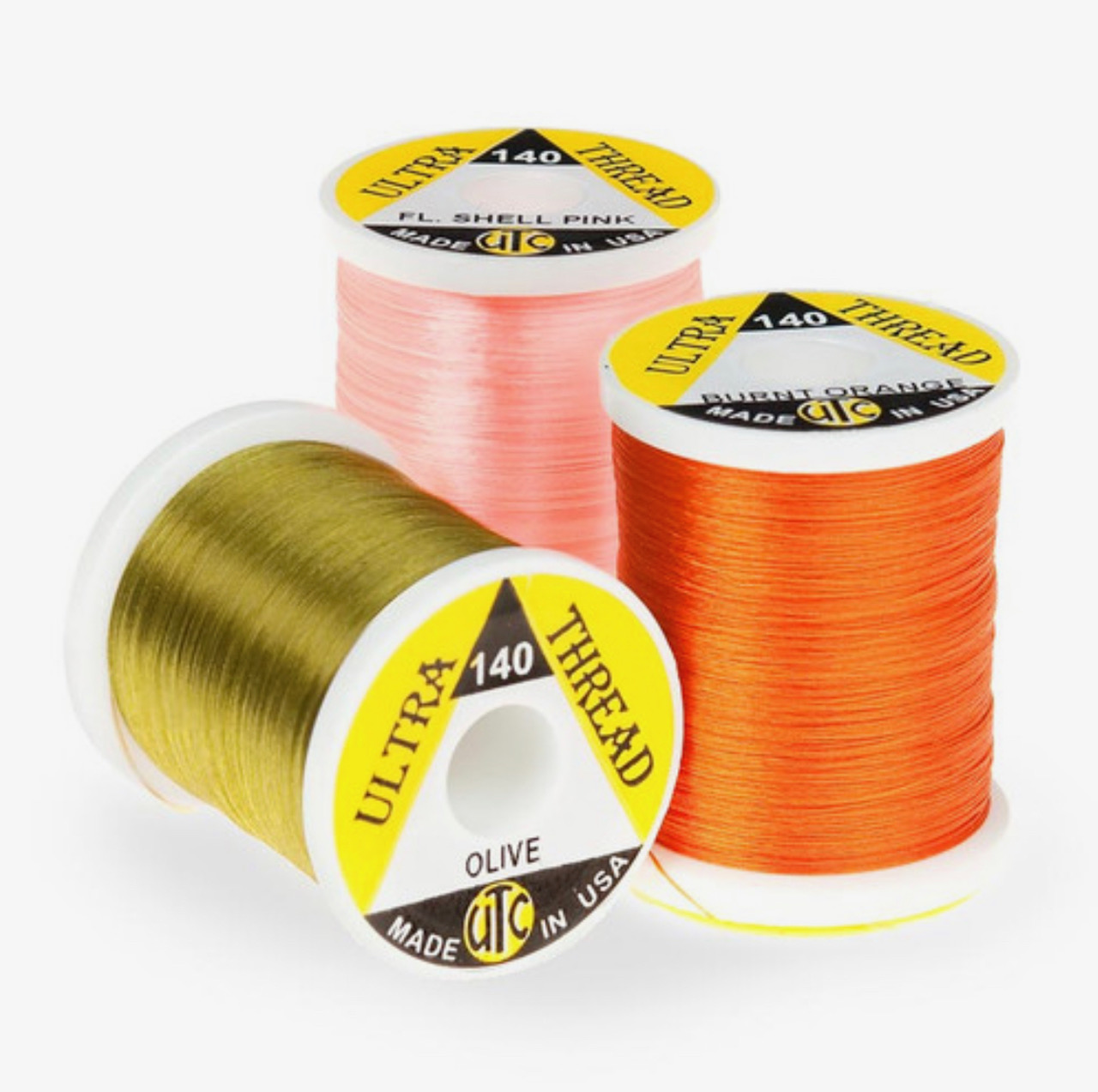 Ultra Thread is the fly tying industry's premier fly tying thread.
Ultra Thread is the fly tying industry's premier fly tying thread.
All-purpose
Rich color
Slight twist and light wax for a smooth and slow build
UTC Ultra Thread is engineered to enhance tying performance. Nylon thread is strong, flat, smooth and lightly waxed. Spool easily secures thread tag end. Use Ultra Thread 140 for medium to large flies. Per 100-yd. spool.
UTC Ultra Wiretop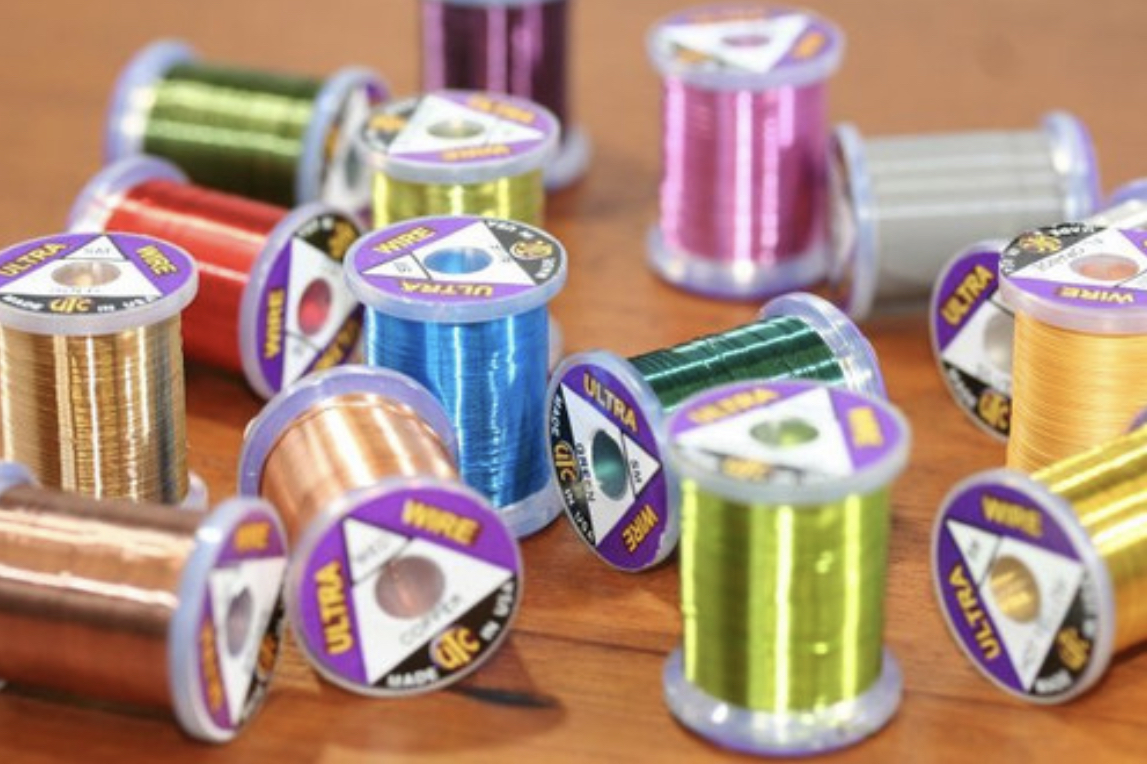 An excellent choice for adding weight, durability and colour to a variety of fly types.
Wapsi UTC Ultra wire is a non-tarnishing copper-based wire used for ribbing, weight, flash, dubbing brush wire and as a body component on nymph and streamer patterns. It is the essential material needed for tying nymph patterns.
Flies can be tied completely out of Ultra Wire if you desire. Wrapping two different colors of Ultra Wire together can make a banded, segmented body.
X-Small: is the size to choose for ribbing on size 20 or smaller.
Small: is an all-purpose size capable of filling many fly tying needs.
Brassie: is an ideal choice for wire bodied flies sizes 18-22 and for ribbing on most trout sized flies.
Medium: is a good choice for ribbing on size 8-12 nymphs.
Large: is a popular choice for streamers and/or large stonefly nymph patterns.
---