TMC C400-BL Tiemco Hook #8 (25-pack)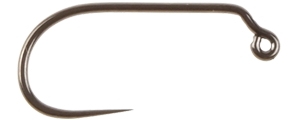 SKU:
45617
Brand:
Tiemco
Model:
C400BL
Weight:
Not Available

Learn More
Buy Now 17.99

Sorry, this item is no longer available
TMC C400-BL Tiemco Hook #8 (25-pack)
The C400BL is a 60 degree jig hook designed to take slotted beads. The offset hook-eye allows flies to hang vertically in the water column. These hooks are perfect for tying heavy Czech Nymphs intended to fish in tandem or three-in-a-line, and are fast becoming the go-to set up for competition fly fishing
Made of Carbon Steel, with stealthy black-nickel finish, the C400BL has a super sharp and extra long point to help retain fish without using a barb.
Sorry, we have yet to setup these items in our store. Please call 800-663-6407 for assistance.
Warranty

Action

Craftsmanship

Value
Sorry, no documents are available.