Shop By Category
Use: Maximize Minimize
Fenwick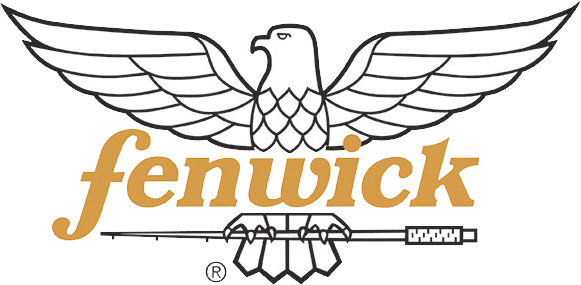 The name Fenwick comes from a lake in Washington State. And performance was the name of the game from day one. On the shores of Lake Fenwick, a group of men passionate about fishing dove head first into development of a rod that would set the technological pace for generations of passionate anglers to follow. As you read about our rich history, take note: their story is not nearly complete, because Fenwick technology is always advancing.
For over 50 years, the Fenwick name has been a legend among fishermen all over the world. The company's fascinating history dates back to the Pacific Northwest in the late 40's where men returning from the "big war" had only one thing on their minds: to get back to the sport of fishing they so loved. Washington State would become the spawning ground where names like Don Green, Clarence Shoff, Lamiglas and Fenwick would write the first chapters of the history of the modern fishing rod.
In addition to the introduction of the first graphite rod, Fenwick continued focusing on specific markets creating new types of technique-specific rods and new ways to fish. For example, The Fenwick Flippin Stick™, was invented by Fenwick to create an entirely new method of bass fishing. During these years, the name Fenwick grew to be more than just a manufacturer of fine rods. It stood as a badge for all fishermen who shared a passion for progressive sport fishing and was the symbol of their highest aspirations and values.
Like our founders, our customers believe that there are few things in their lives more essential than fishing. For them no other activity offers the same emotional and psychological satisfaction. They are students of their sport, constantly experimenting with new tools and technologies with which to refine their techniques. These are fishermen who measure success not just by the quantity of their catch, but by the quality as well. Every rod we build represents a lifelong contract between us and its owner to deliver a lifetime of satisfying fishing experiences where ever and whenever they fish.
Today, Fenwick's tradition of technology continues to meet the specialized needs of avid anglers. Contemporary fishermen are no longer generalists. They're specialists – bass fisherman, walleye fisherman, fly fisherman, saltwater fisherman -- avid anglers who identify themselves by a specific technique or species. In response, Fenwick's tradition of technology continues to drive its designers, engineers and pro staffers to develop sophisticated fishing rods specifically designed for specialized applications. It's why, for over half a century, Fenwick rods have been known, and will always be known, in the words of one of our founders, as "the most thought-out fishing rods in the world."
Buy on-line or talk with a knowledgeable fly fishing specialist: