---
Airflo
Impact Running Linetop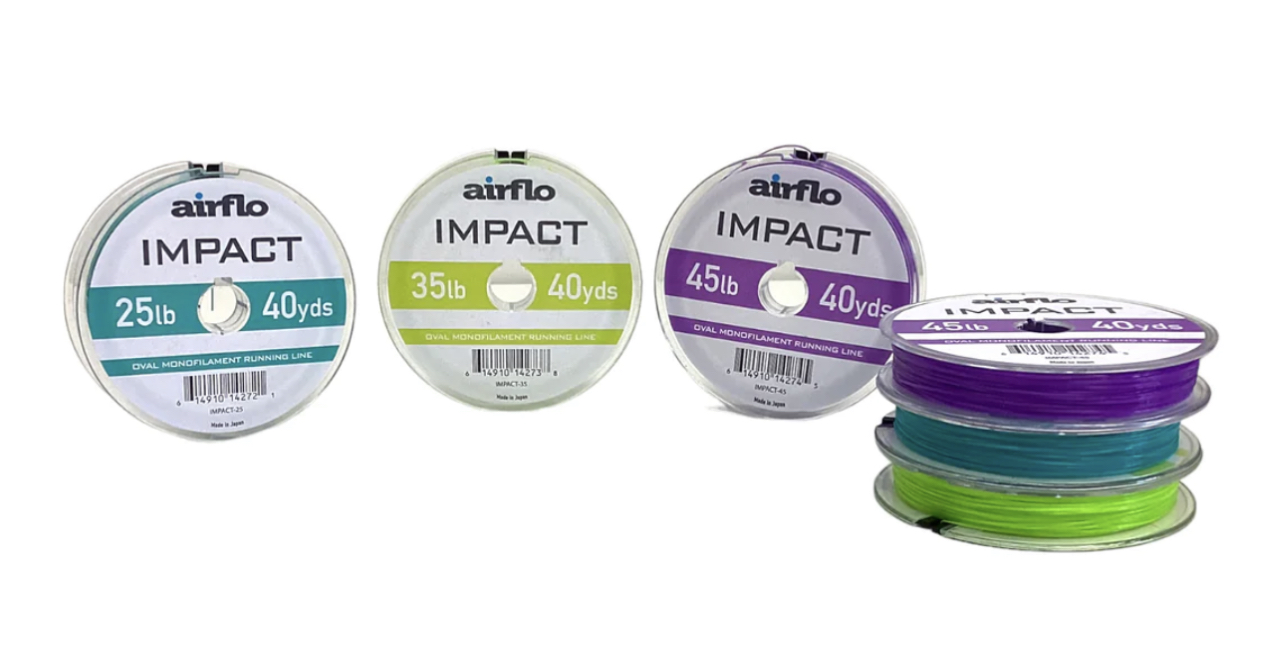 Mono Shooting Line
Airflo's oval section mono has a hard slick finish and just the right amount of stretch to remove any memory.
Ridge Running Linetop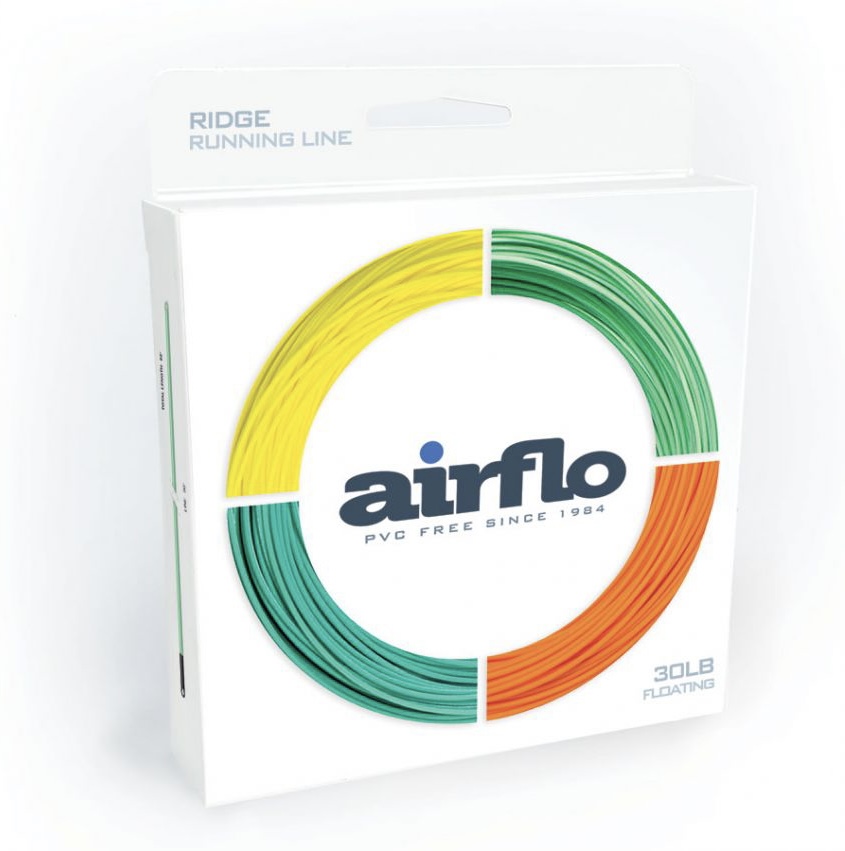 SuperDri, Ridge and Power Core technologies
No ordinary running line, the Ridge is designed with a black band at the tip so you can gauge where you are in the loading process. It also features oversized loops for ease of head connection. Super Dri, Ridge and Power Core technologies yield a slick, highly durable running line that's far less prone to tangles.
Ridge Running Line Extremetop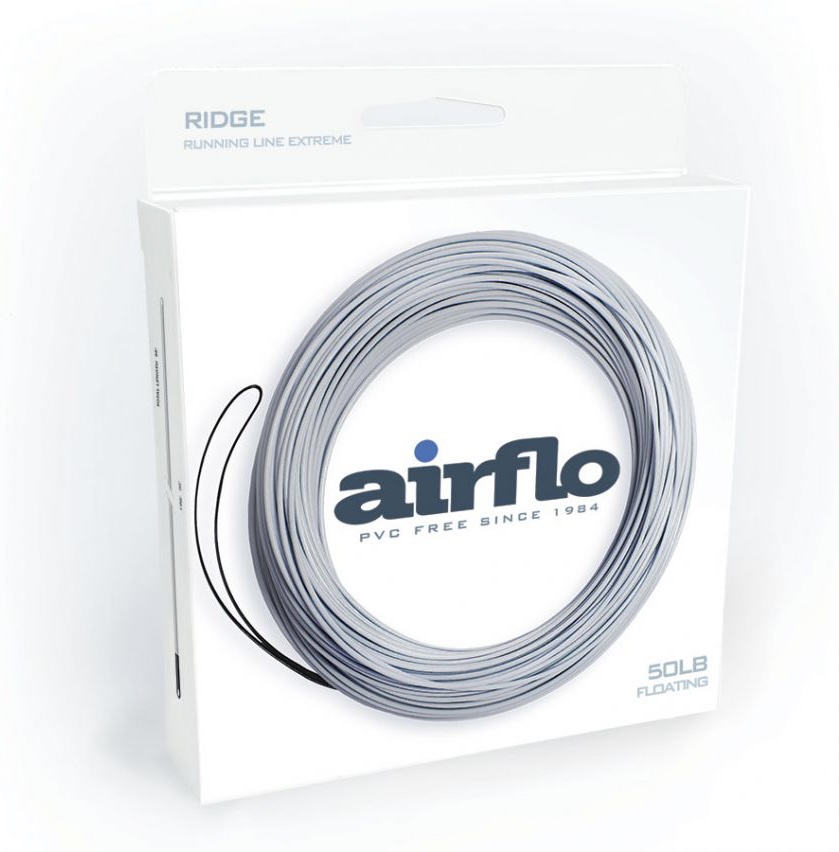 Equally at home in fresh or saltwater
Equally at home in fresh or saltwater, the Ridge Running Line Extreme has a slightly harder coating that's much less wiry than mono and shoots a country mile. Includes two Flexi Loops: 1/2 inch on the back and 6inch on the front for easy head changes. 20, 30 and 50lb Power Core options make this the ultimate workhorse running line.
---
Gaelforce
Equalizer Shooting Linetop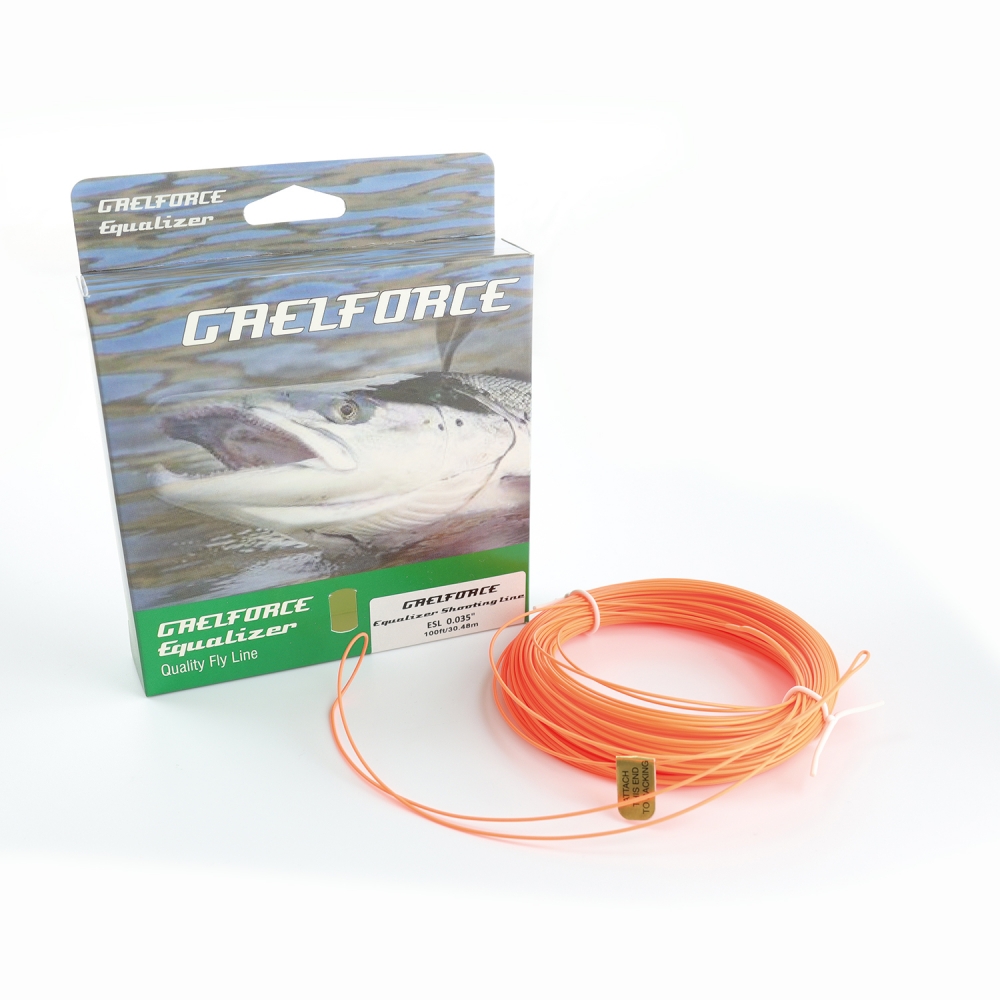 Super slick coating with a super supple core
GAELFORCE 'Equalizer' ESL Shooting lines are coated with a super slick coating technology, which contains a line slickening agent which migrates to the line's exterior giving prolonged shooting qualities and enhanced durability.
Compact loops front and rear, with the front loop being the larger at eight inches, this accommodates the largest of reels to pass through the loop for easy head changeovers.
A unique core for memory free and tangle free running line ensures smooth line management determined entirely by the angler.
An Ideal match for the 'Equalizer' short head range of fly lines.
---
Nam Products
Hazumi Shooting Linetop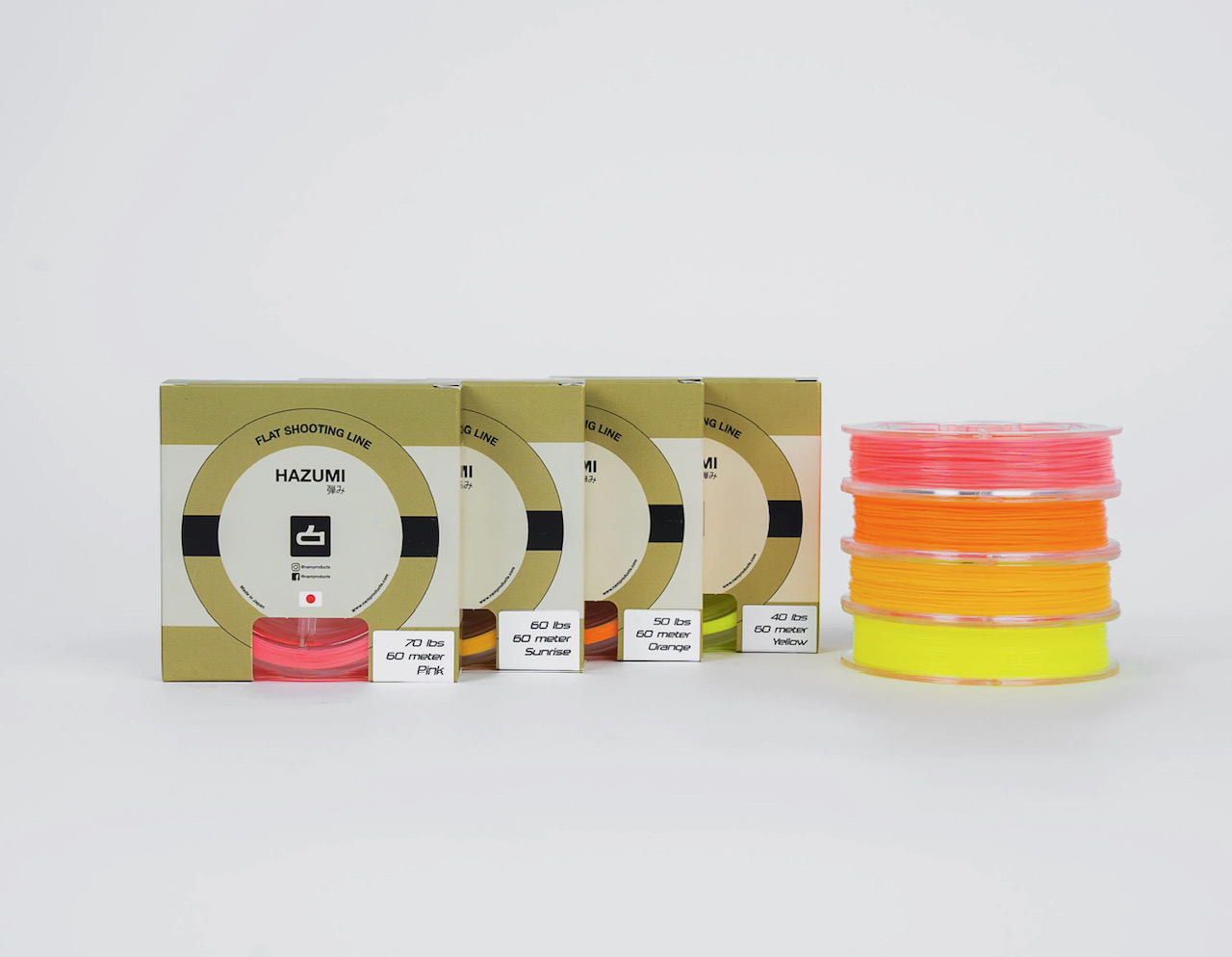 Flat Mono
Flat mono shooting line with almost no spool memory.
---
OPST (Olympic Peninsula Skagit Tactics)
Pure Skagit Lazar Linetop
Slick, Thin and Easy Shooting
OPST Pure Skagit Lazar Line epitomizes everything people love about monofilament running lines: slickness, easy shooting, and thinness. Even better, it lacks memory, the main drawback common in mono. If you like to make a cast and then kick back and enjoy the scenery while your running line is streaming out, maybe taking a bite of your sandwich as you achieve more distance than ever before, Lazar Line is for you. This ultra-thin, extremely slick running line will shock you with how little memory it has. We still laugh when we take strips of line off of our reels because we can't believe how good it is, even after years of use. A new spool will have some memory, but if you stretch the line and, even better, pull it through your fingers, you will see that memory disapears. Lazar Line is a low-stretch monofilament, and thanks to that and to its thin diameter, it ties neat and strong knots. We have tested it in both hot and cold conditions and have found it outstanding at any temperature.
---
Rio Products
Elite Metered Shooting Linetop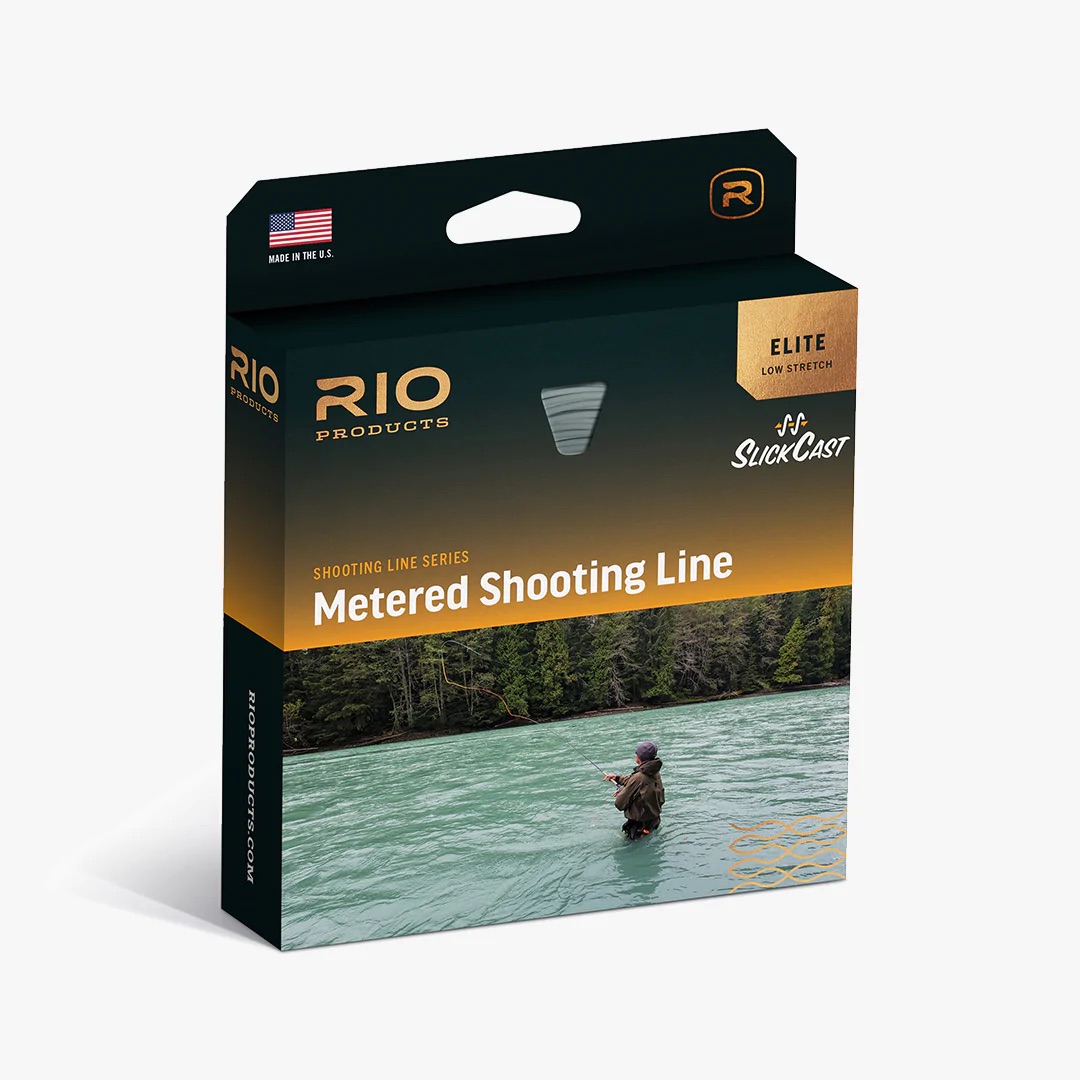 An incredibly sensitive shooting line with low-stretch, ultra-slick performance, and metered for easy distance evaluation
RIO's Metered shooting line is the ultimate shooting line; packed with features that result in long casts, greater hookups and more efficient fishing. The low stretch core provides enhanced detection of takes, more positive hook sets, and far greater control when playing a fish. In addition, the line features RIO's RangeFinder system, with a color change every 10ft making it easy for anglers to gauge how far each cast is, and consistently fish through a pool. A short front taper stabilizes the cast and ensures maximum distance and flight time, while large welded loops on each end allow for fast rigging changes. In addition, this line is built with SlickCast, creating the slickest, most durable coating on the market—producing the least amount of friction ever measured in a fly line.
GripShootertop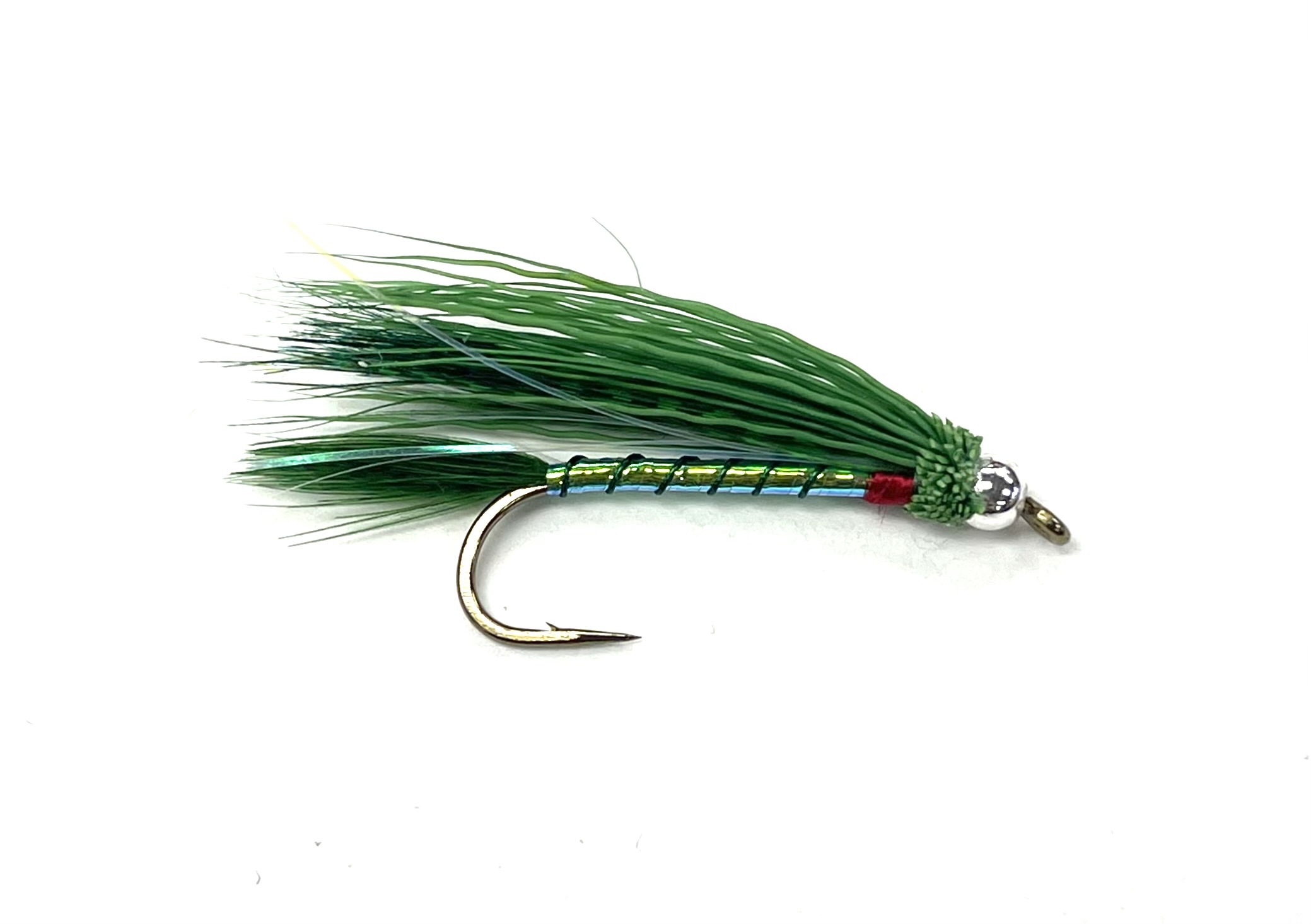 A Hard Nylon Shooting Line With A Unique Handling Section – The Best Choice For Distance
RIO's GripShooter is based on the very popular SlickShooter, but has a thick, coated handling section that makes it very easy to grip in cold conditions. The thin nylon shooting line gives caster's the maximum distance and is light enough to hold off the water at range and allow anglers great control of their head and fly far out in the swing. A neat 8" welded loop at the front end allows for fast and efficient head changes.
Powerflex Ultra Shooting Linetop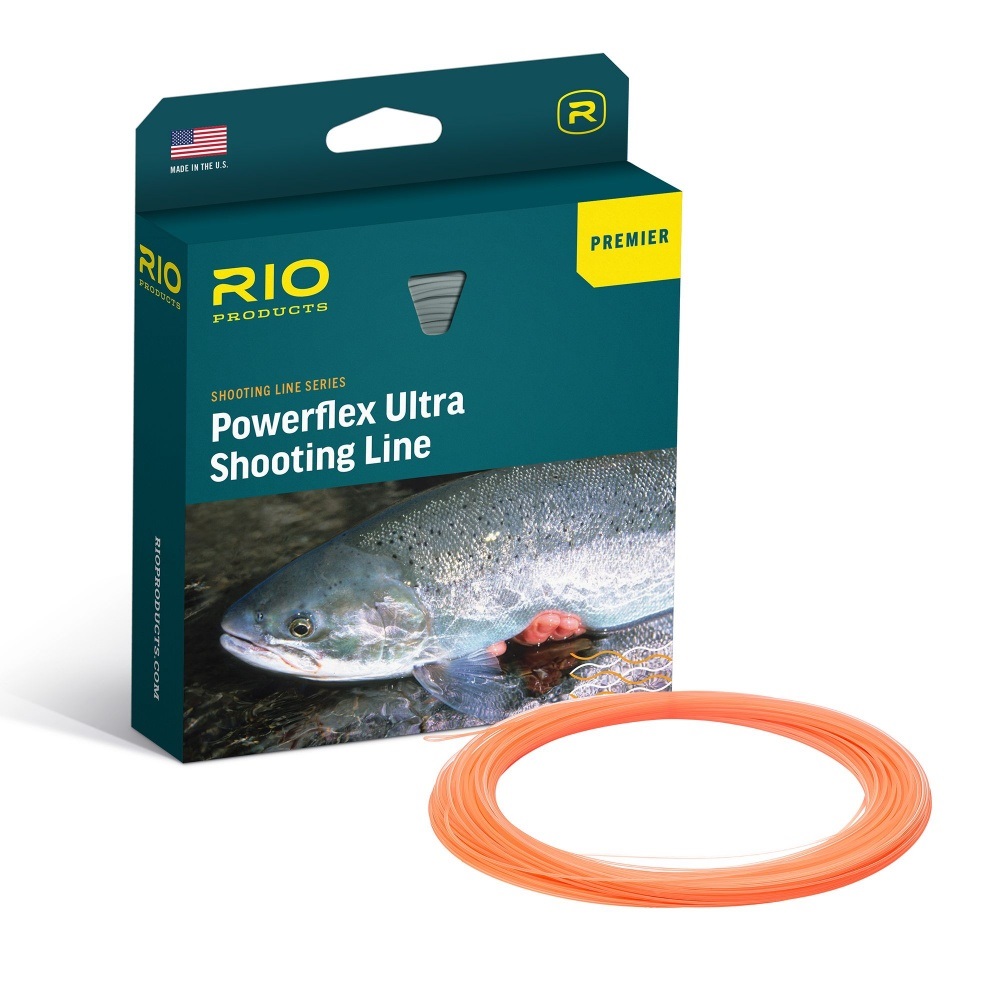 A hard, tough coated shooting line, which excels on the shoot
RIO's Powerflex Ultra Shooting Line is an excellent shooting line for anglers using Skagit or Scandi style shooting heads. It features an extremely tough outer coating, over a medium stiff Powerflex core that shoots with unbelievable ease for ultra-long casts, has greatly increased durability and ensures tangle-free performance, cast after cast. The line's ultra-slick coating floats high on the surface, allowing for reduced drag and making it easy to shoot. Bullet proof welded loops on each end make it fast and easy to rig, while the front loop is large enough to pass an entire shooting head coil through, for maximum speed and efficiency when rigging.
SlickShootertop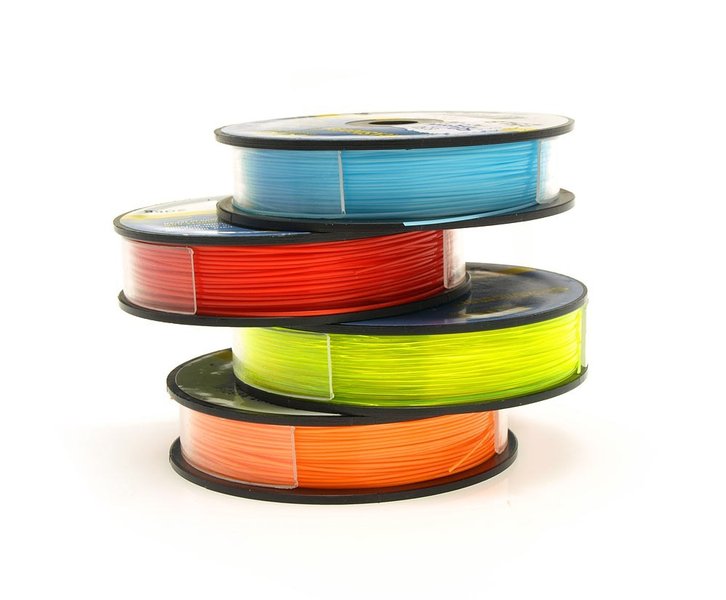 A HARD NYLON SHOOTING LINE FOR DISTANCE
A HARD NYLON SHOOTING LINE FOR DISTANCE
Blue - 25lb
Orange - 35lb
Red - 44lb
Yellow - 50lb
---
Royal Wulff
Tracer Shooting Linetop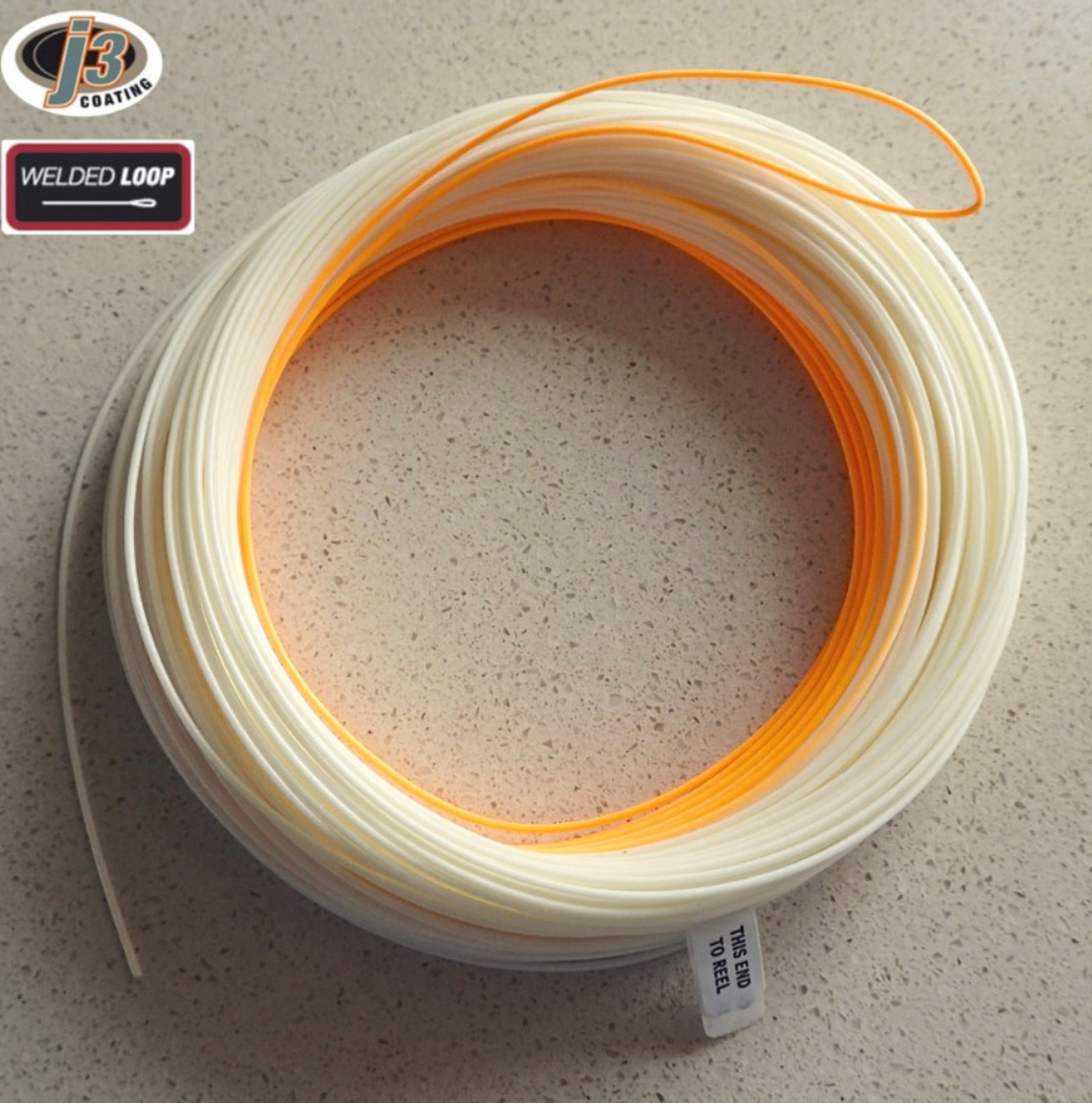 100' long, thin (.032") diameter running line
Our Tracer Shooting Line gives you the distance you seek. 100' long, thin (.032") diameter running line, features a slick J3 coating over a dacron core for ease of handling and shootability. Terminates in a 24" fluorescent orange "tracer" with an 8" loop connection for quick changes.
---
Scientific Anglers
Absolute Flat Mono Shooting Linetop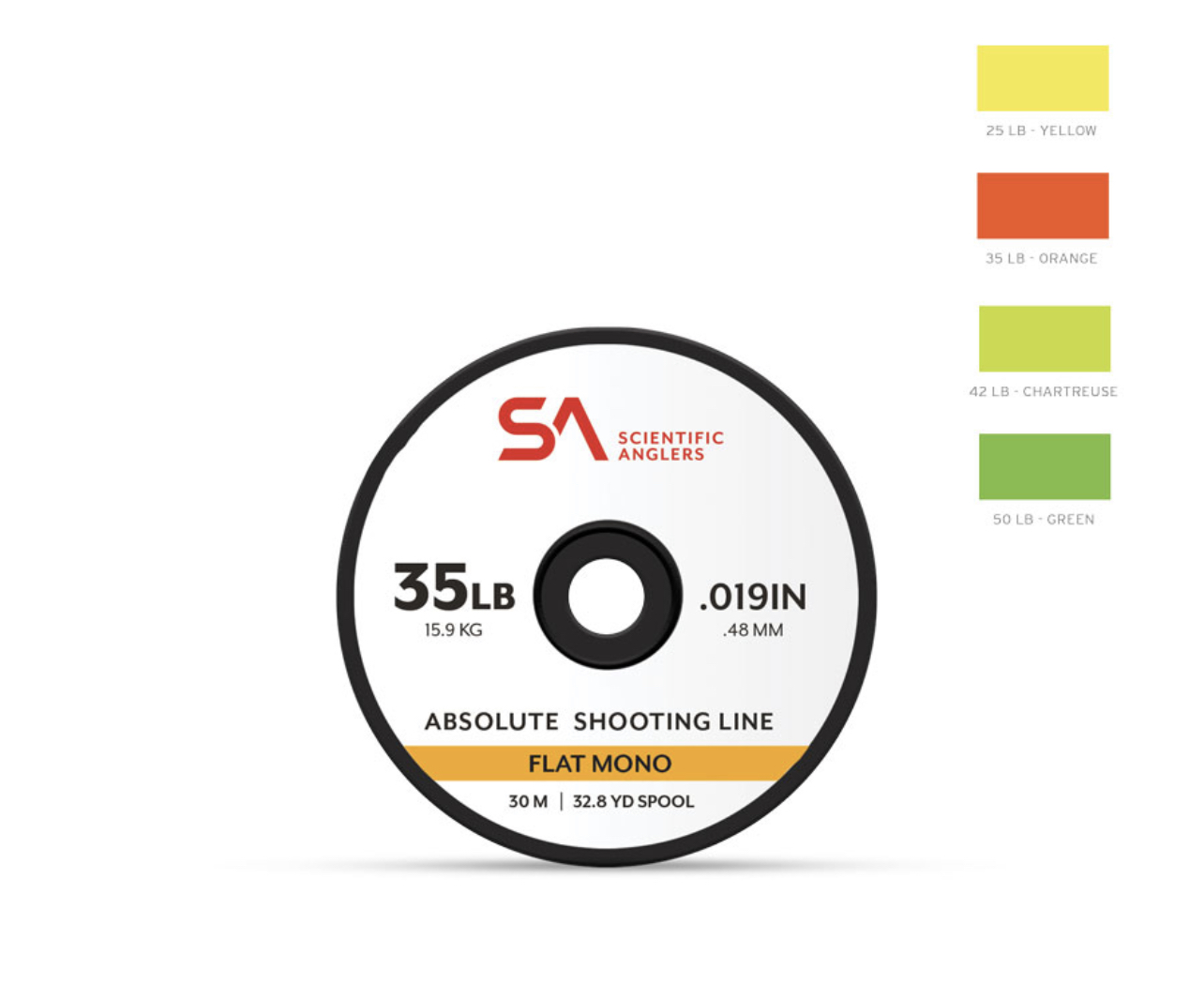 Mono Shooting Line
Rectangular profile reduces line twist and increases grip in fingers
Hardness is tailored per size for optimal shooting with low memory in any condition
Vibrant colors that are easily tracked at distance
Available in 30m reel fill spools
---
Teeny
---
Varivas
Airs Shooting Linetop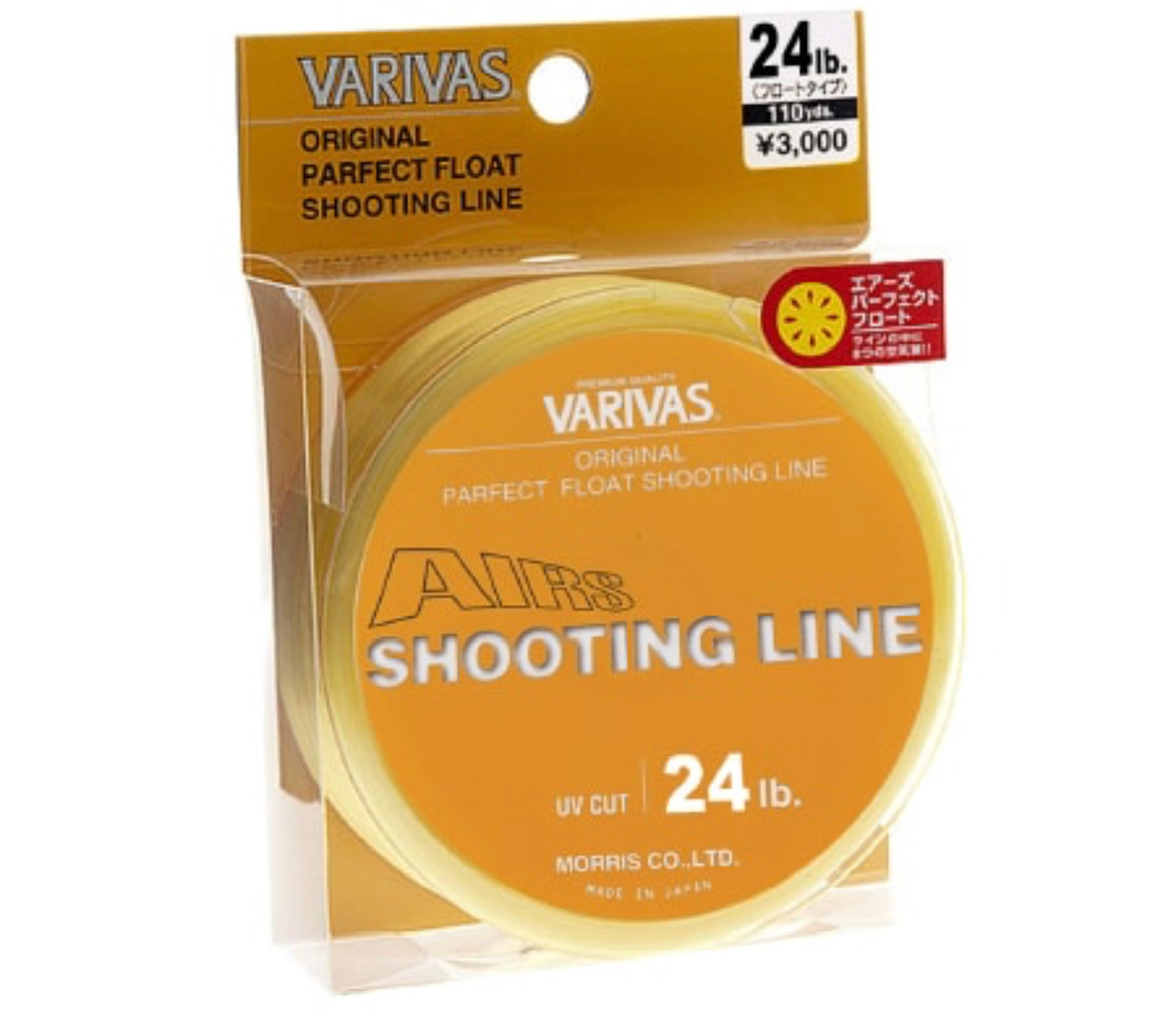 Designed as a running line for shooting-head systems
Hollow monofilament line with eight channels running through the nylon, and a unique "slick" coating. High riding, super lightweight line for smooth, long, effortless shooting-head casting on large waters and wide rivers. Hi-viz yellow color. 100m spools.
---