Daiichi Fly hooks are the finest in the world. They are made of the finest high carbon steel, which is hardened and tempered to an exacting formula that makes for a long point life and a very strong hook.
Daiichi hooks use a 12-degree constant taper ground needle point. This eliminates irregularities in shape, assuring no weak spots, & gives amazing speed of penetration.
They chemically sharpen in a special bath that deburs their points. Daiichi hooks come in multiple finishes that are all evenly and smoothly applied. Each hook is precision tooled "true" to the exact design of the eye, bend, gape & barb.
The barbs are an advanced "low profile" design that results in minimal weakness and less broken hooks and lost fish.
---
Materials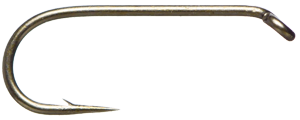 Traditional dry fly hook
Daiichi 1100 fly tying hooks are the perfect hook for traditional dry flies like the Adams or Elk Hair Caddis. Daiichi 1100 hooks feature an oversized eye, which makes it easier to tie-on small flies. They also feature 1X Fine wire, a mini-sized barb, and an extra wide gape.
Wide Gape
1X - Fine Wire
Perfect Bend
Oversized Down Eye
Mini Barb
Bronze
Tiemco Equivalent: TMC100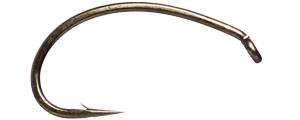 Scud Hook
Daiichi 1120 fly tying hooks are a continuous bend, scud style hook in a 2X Heavy wire. The heavier wire of the Daiichi 1120 hooks make them a good choice for helping to sink the fly and for large fish on small hooks. Flies commonly tied on a hook style like the Daiichi 1120 include scuds, caddis larva and pupa, San Juan Worms, chironomids, egg flies, and even mayfly nymphs.
1X - Short Shank.
2X - Heavy Wire.
Continuous Bend
Wide Gape
Down Eye
Bronze
Uses: Scuds, eggs, caddis larva/pupa, chironomids, nymphs, worms.
Tiemco Equivalent: TMC 2457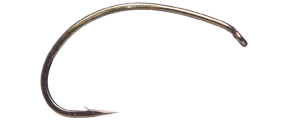 Scud Hook - fine wire
Daiichi 1130 fly tying hooks are a continuous bend, scud style hook in a 1X Fine wire. The Daiichi 1130 hooks are commonly used for surface emerger caddis, midge or mayfly patterns as well as scuds, egg flies, and chironomids.
1X - Short Shank
1X - Fine Wire
Continuous Bend
Wide Gape
Down Eye
Forged
Bronze
Uses: Scuds, Shrimp, Emergers, Midge Pupa.
Tiemco Equivalent: TMC 2487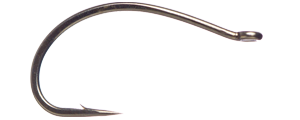 Curved Nymph Hooks
Daiichi 1150 fly tying hooks are a continuous bend, scud-style hook with an up-eye and 1X Heavy wire. They are a favorite hook for caddis pupa, especially when fishing them with a swing at the end of your drift since the up-eye aids in keeping the fly upright on the swing. Daiichi 1150 hooks are also a great chironomid hook.
Continuous Bend Shank
1X - Heavy wire
Up Eye
Forged
Bronze
Uses: Nymphs, Caddis Pupa, Chironomids, Shrimp, San Juan Worms.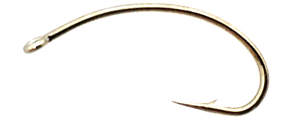 Klinkhamer Hook for Caddis Nymph & Scuds
The Daiichi 1160 is a fantastic hook for tying klinkhammer style flies as well as many of the J Son realistic Mayfly patterns.
Designed by Hans Van Klinken
Curved Shank
Wide Gape
Slightly Heavy Wire
Straight-Eye
Bronze
Uses: klinkhamers, emergers, caseless caddis nymphs and gammarus patterns.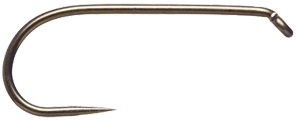 Barbless Dry Fly Hooks
Daiichi 1190 fly tying hooks are designed as a barbless dry fly or emerger hook. They feature a standard shank length and standard wire. Daiichi 1190 hooks are ideal for many dry flies like the Humpy, Adams, Parachute dry flies, Royal Wulff, Elk Hair Caddis and so on. They are perfect for saving time at the tying bench by not having to pinch down barbs.
Barbless
Standard Shank
Standard Wire
Round Bend
Down Eye
Bronze
Uses: Dry Flies, Emergers.
Tiemco Comparable Hook: TMC100BL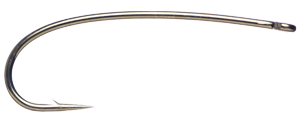 Curved Hook
Daiichi 1260 fly tying hooks feature a 2X Long, curved shank and standard wire. The Daiichi 1260 style of hooks are used for all kinds of flies but would be most appropriate for larger dry flies, nymphs and leeches. Popular flies that use a Daiichi 1260 style of hook include various hopper and stonefly dry flies, as well as long-bodied nymphs and streamers.
2X - Long, Curved shank
Standard Wire
Round Bend
Straight Eye
Forged Bronze
Uses: Dry Flies, Nymphs, Streamers.
Comparable Tiemco: TMC3212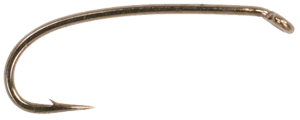 Nymph Hook
Daiichi 1760 fly tying hooks are an excellent hook choice for chironomids and all kinds of nymphs. The 2X Long, curved shank makes very realistic nymphs and is the perfect shape for chironomid pupa. The 2X Heavy hook wire aids in sinking the fly and is ideal for big, chironomid-eating trout when hooked on small flies.
2X - Long, Curved shank
2X - Heavy wire
Round Bend
Down Eye
Forged Bronze
Tiemco Equivalent: TMC 2302