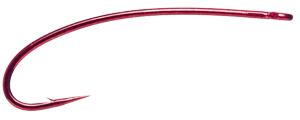 Image is a representation.
Actual product many very based on size and options selected.

Brand:
Daiichi
Model:
1273
Model Item Selector
Narrow your selection by clicking options.
The options will update based on your selection.
Click the to clear your selection.
Price Range: $16.98 - $59.98


(depends on options selected above)
Description
Daiichi 1273 Curved Shank Nymph Hook - Red
The york bend was developed by Daiichi to simulate a more natural looking curved hook. Many tyers feel that these curved hooks create a more natural representation of the flies they tie. This 3X-long model is perfect for bead head nymphs, hoppers, and other dry flies but just a reminder - this is a standard wire hook only.
The hooks are made of the finest high-carbon steel, which is hardened and tempered to an exacting formula that makes for a long point life and a very strong hook. Daiichi hooks use a 12-degree constant taper ground needle point eliminating irregularities in shape, assuring no weak spots, and gives amazing speed of penetration.
Uses:
Hoppers
Terrestrials,
Stonefly
Nymphs
Bloodworms
Chironomids
Features:
York bend
Straight-eye
Red Finish
3X-long shank
Forged
Sizes: 12-18
25-pack and 100-pack
York bend
Straight-eye
Red Finish
3X-long shank
Forged
Sizes: 12-18
25-pack and 100-pack
---
Buy on-line or talk with a knowledgeable fly fishing specialist: