Shop By Category
Use: Maximize Minimize
Teeny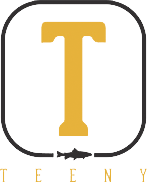 It has always been our goal to design and offer the best casting and fishing lines in the world. With our new HPC coating and advanced tapers we have achieved the highest level of fly lines to date. We will continue to explore and improve where we feel it is needed to help our fishing friends hook more fish.
Fly lines are such an important part of fishing, while it is not necessary to own every line, it is important to address the fisheries that you pursue. We offer different center cores for warm and cold water fisheries. Regardless of weather conditions you can fish with a Teeny line that is perfect for your next trip.
I started the Teeny Nymph Company on July 1, 1971 in hopes of entering into the Fly Fishing Tackle World. Over 40 years later we are still here and growing. What we offer serves a definite need and purpose. Our Teeny fly patterns will catch just about anything that swims. More than 30 IGFA world records, that we are aware of, speak highly for this simple pattern.
With all the products that we offer none has had a greater impact on the fly fishing world than our sinking fly lines. Teeny fly lines have become the #1 sinking lines throughout the world today. Equally effective in both fresh and saltwater situations these lines handle and cast like a dream because they are designed to be perfectly balanced.
Buy on-line or talk with a knowledgeable fly fishing specialist:
Quick Links
Fly Lines
Spey Lines