Quick Links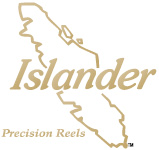 Islander Reels has been manufacturing precision Center Pin, Fly and Mooching reels for over 25 years. Islander is a division of J.S. Foster Corporation in Victoria, British Columbia, Canada. J.S. Foster Corporation is a precision production machine shop, using modern C.N.C. lathes and machining centers and employs over 50 people involved in various capacities of the operation of the company. J.S. Foster was started by Joseph Foster over 45 years ago and continues to be a family owned and operated business.
---

The IR Series was designed as a small, lightweight series for lines from 2 - 7 weight with a unique click drag system.
---

IS (Islander Steelheader)

top
The IS is certainly designed with elegance and functionality in mind. The spool has a large arbour for quick retrieval and a large, smooth palming rim allowing for everything down to the lightest touch of drag.
---

Every LX fly reel is designed with a large arbor spool to enhance retrieval speed and reduce the need for backing. Options for 6-13 Line weights.
---

Mooching MR3 Solid

top
MR3 incorporates a large arbor spool for quicker line pickup. Three large, fully sealed, stainless steel ball bearings. Large 3-inch clutch drag system.
---

Reel Pouch

top
Need an extra or replacement pouch for your reel? Get a genuine Islander neoprene pouch here.
---