Hardy Bouglé 3 1/2" Fly Reel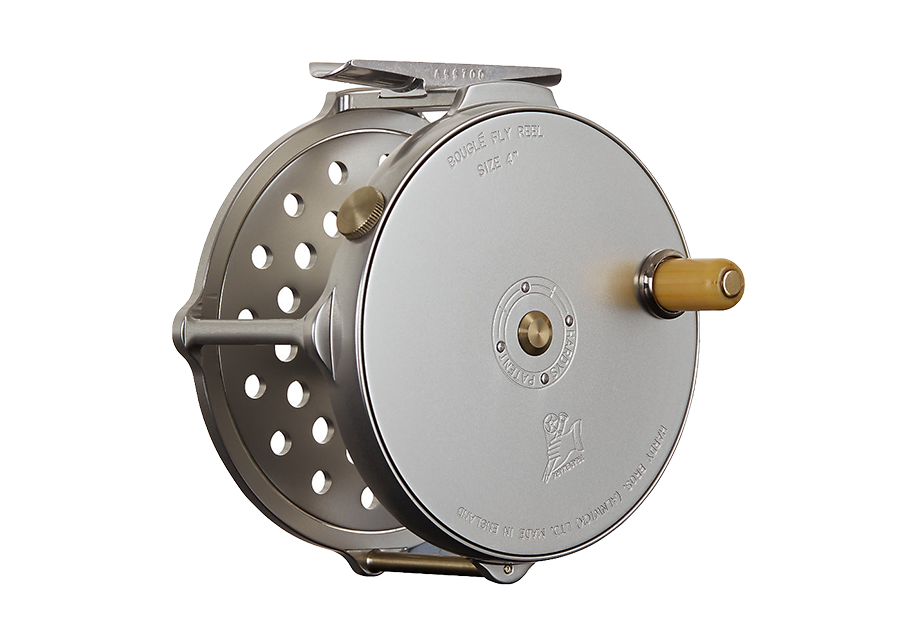 SKU:
HEB040
Brand:
Hardy
Model:
Bouglé
Weight:
Not Available

Learn More
Buy Now 909.00

Hardy Bouglé 3 1/2" Fly Reel
Launched for the reel's 110th birthday in 2013, this Bougle is one of the best yet - with its rolling pillar; reversible click check; naval brass bush and spindle; and its hand polished, deep anodised 'pearl silver' finish. This Bouglé reel is sure to become one of the classics.

Made by time served Hardy Bros. reel makers in Alnwick, England, this Bouglé reel comes presented in a beautiful, UK made, soft leather, sheepskin lined reel case.
Sweet sounding, wide ranging check system
Naval brass bush and spindle
Deep anodised bar stock aluminium in Pearl Silver finish
Easily changed from left- to right-hand wind
Spools interchangeable with Bouglé Mk VII, VI, V & IV
Supplied with Hardy Bros. soft leather, sheepskin lined reel pouch
Click on line to view item details

SKU
Description
Weight
HEB010
Hardy Baby Bougle 2 13/16 Inch Fly Reel
0.0 oz
HEB040
Hardy Bouglé 3 1/2" Fly Reel
0.0 oz
HEB030
HARDY BOUGLÉ 3 1/4" FLY REEL
0.0 oz
232537s
Hardy Bougle MK V 3 1/2" Centenary Gold/Green Limited Edition - NEW
0.0 oz

Total items: 4

Currently viewing
Warranty

Action

Craftsmanship

Value
Sorry, no documents are available.