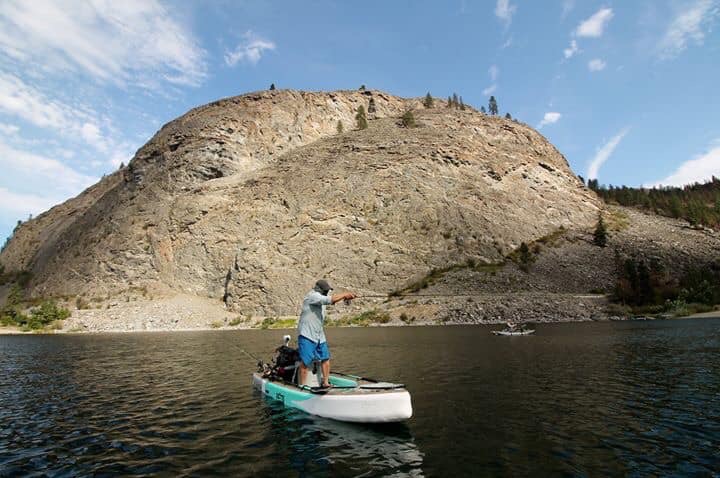 Outline
Wether your a beginner or a seasoned fly angler this event is sure to be memorable!
Let us introduce you to the world of fly fishing for trophy bass in B.C.
This 4 day venue takes place in the hidden valley of the Similkameen. Okanagan wine counrty and home to some of the best bass fishing B.C. has to offer. This Spring fed lake holds both small/largemouth bass up to 8 pounds and over. Perch up to 3 pounds, carp, sunfish and whitefish species.
We will be staying at the Gallagher Lake Rv Resort. All Shared Beach Sites include power and water. Laundry facilities, hot showers and cleaning/washing stations.
This trip incudes 3 meals a day, beverages and snacks. All meals are prepared by Gourmet Chef Pierre Morel.
Learn to effectively fish top water Poppers and stalk bass in there habitat. Fish off the beach or in your boat.
Trip includes on site tutorial of lake and how and where to fish. A 2 hour afternoon tying session at base camp. (optional participation)
Evening tutorial on night fishing for Bass and fishouts.
Optional Fishing on Vaseux lake ( No electric - row/paddle only!)
Complete with Ice cream tour of the famous Tickleberry's ice cream shop with over 100 flavours , creative chocolate and trendy gifts from local artisans.
Please note there is no boat launch. Electric motors are welcome. Small craft recommended. 9 feet or less. Sups, Kayakes, canoes, belly boats, pontoons, sprateleys, fly fishers and small zodiacs only. Please note that this is a catch and release fishery. (no smoking on beach, common areas and cabins)
Angler limit:10-12
check in Tuesday 1pm May 26th
Chech out Saturday May 30 11am.
(quiet times are 11pm-8am daily)
Host: Dennis Gamboa - The Fly Box
Chef: Pierre Morel of Michael & Young Fly Shop
Beach site Reservations 42,43,40,38 & 37
Host site is #39
Breakfast meals -8am / Lunch -1pm / Dinner -6pm
Requirements
Camping equipment
Fly rod outfit, 6-8 weight, with both floating and sinking line.
Deposits required for registration and choice of site ($100.00)
Duration
5 days 4 nights
Pricing
Available Course Dates
Sorry, it appears we have not finalized a date yet or the current dates are full. We can place you on the wait list and contact you when new dates have been added.
Other On-The-Water Courses
Fly Fishing for Bass - Gallegher Lake Fishing Weekend