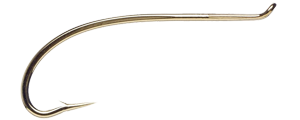 Image is a representation.
Actual product many very based on size and options selected.

Brand:
Daiichi
Model:
2065
Model Item Selector
Narrow your selection by clicking options.
The options will update based on your selection.
Click the to clear your selection.
Size
Filtered By:
#3
Finish
Gold
Quantity Packs
Filtered By:
10 Pack
---
Count: 1 of 2 Total Model Items
2065 Daiichi AJ Spey, Heavy Wire, Tapered Loop Up Eye Gold Hook #3 (10-pack)
Buy Now 32.99

Description
Alec Jackson is a fly tier and hook designer who specifically designed a spey flies that appeal aesthetically to both men and fish. Also preferred by many tiers, who tie collectable "full dressed" Atlantic salmon flies, this is the hook of choice for many salmon and steelhead fishers in the Pacific Northwest.
The hooks are made of the finest high-carbon steel, which is hardened and tempered to an exacting formula that makes for a long point life and a very strong hook. Daiichi hooks use a 12-degree constant taper ground needle point. This eliminates irregularities in shape, assuring no weak spots, and gives amazing speed of penetration.
Uses:
Features:
Tapered loop
Up-eye
Gold finish
Heavy Wire
Curved shank
Sizes: 3, 1.5
10-pack
Tapered loop
Up-eye
Gold finish
Heavy Wire
Curved shank
Sizes: 3, 1.5
10-pack
---
Buy on-line or talk with a knowledgeable fly fishing specialist: