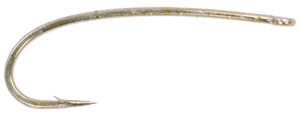 Image is a representation.
Actual product many very based on size and options selected.

Brand:
Tiemco Fly Hooks
Model:
TMC2312
Model Item Selector
Narrow your selection by clicking options.
The options will update based on your selection.
Click the to clear your selection.
Size
Filtered By:
#6
Finish
Bronze
Quantity Packs
Filtered By:
100 Pack
---
Count: 1 of 12 Total Model Items
TMC 2312 Tiemco Hook #6 (100-pack)
Buy Now 45.99

Description
A versatile design for stoneflies, caddis and hopper flies, as well as nymphs. It features a straight eye and slightly curved, 2X-long shank. The Wire is 1X-fine for enhanced floatation of a fly.
Hopper & Terrestrial
Straight eye
2XL
1XF
Slightly humped Shank
Forged
Bronze
Hopper & Terrestrial
Straight eye
2XL
1XF
Slightly humped Shank
Forged
Bronze
---
Buy on-line or talk with a knowledgeable fly fishing specialist: