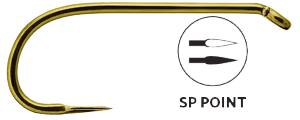 Image is a representation.
Actual product many very based on size and options selected.

Brand:
Tiemco Fly Hooks
Model:
TMC100SP-BL
Model Item Selector
Narrow your selection by clicking options.
The options will update based on your selection.
Click the to clear your selection.
Size
Filtered By:
#12
Finish
Bronze
Quantity Packs
Filtered By:
100 Pack
---
Count: 1 of 12 Total Model Items
TMC 100SPBL Tiemco Hook #12 (100-pack)
Buy Now 52.99

Description
This hook features the SPS-Barbless point(SP with a straight point) and heavier wire than TMC100. Strong enough for big fish. We expect that this barbless dry fly hook will be good for any dry fly fishing around the world and be a new global standard.
Dry Fly
D/E
0X-1X Heavy
1.5X Wide
Forged
SPS point
Barbless
Bronze
Dry Fly
D/E
0X-1X Heavy
1.5X Wide
Forged
SPS point
Barbless
Bronze
---
Buy on-line or talk with a knowledgeable fly fishing specialist: