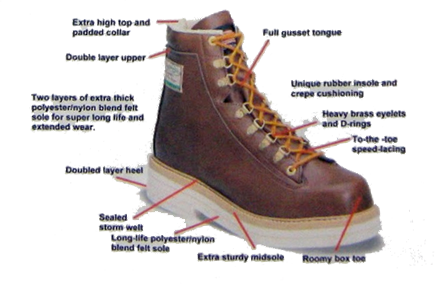 Category:

Boots

Description

A classic leather wading boot from Weinbrenner. Manufactured of supple leather and featuring a felt sole. Extreme comfort and good support in the water or on land.
Sorry, we have yet to setup these items in our store. Please call 800-663-6407 for assistance.
Extra high top and padded collar
Double layer upper
Two layers of blended felt for super long wear and extended comfort
Double layer heel
Sealed storm welt
Long lasting polyester/nylon blend sole
Extra sturdy midsole
Roomy box toe
To-the-toe-speed-lacing
Heavy brass eyelets and D-rings
Unique rubber insole and crepe cushioning
Full gussets tongue
Warranty

Action

Craftsmanship

Value
Sorry, no documents are available.