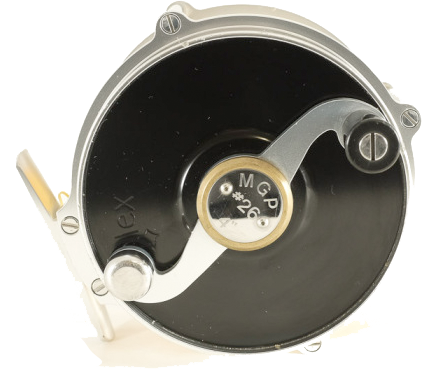 Category:

Reels

Description

This 4" multiplier 2x reel is a raised pillar gear and pawl design that weighs 16 oz, and is ideal for 14 to 16 foot spey rods. The reel can be ordered with a 1-way outgoing check (silent windup) or a 2-way check and single (with counterbalance) or dual handles (no counterbalance). The faceplate and cage are available in silver, black, or green and the handle colors are black, Ivorine/Ivory, or wood composite (handles are either straight or flared). Brass accents (reelfoot and counterbalance), full brass (reelfoot, counterbalance, and pillars) or 3.5" reelfoot are available for an additional charge. The s-handle can be converted to an inset handle.
Click on line to view item details

SKU
Description
Line Weight
Weight
SP2232v
Multiplier 4 1/4" (used)
oz

Total items: 1
Warranty

Action

Craftsmanship

Value
Sorry, no documents are available.