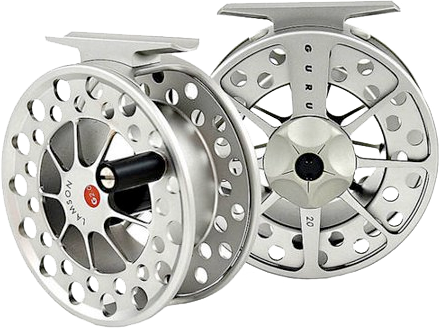 Category:

Reels

Description

Newly introduced in 2009, Guru entered the Lamson family as our lowest-priced fully machined reel. The signature arm-style element on the frame combines with open spokes to maximize structural strength and minimize weight. As with our other reels, Guru features true large arbor ratios. Guru is available in 4 weight through 10 weight, and shares identical drag design and components with our most expensive reels. Guru is finished with a clear type 2 anodize.
Continued excellent quality, affordable price.
Large arbor design enhancements for faster retrieves
Open spokes to minimize weight and help with line drying
Integrated counterbalance
Curved cross-section arbor for structural stability
Finished with a clear Type 2 anodize
Click on line to view item details

SKU
Description
Line Weight
Weight
SP2217s
Guru 1.5 (used)
oz
SP2148s
Guru 4wt (used)
oz

Total items: 2
Warranty

Action

Craftsmanship

Value
Sorry, no documents are available.