Coho Salmon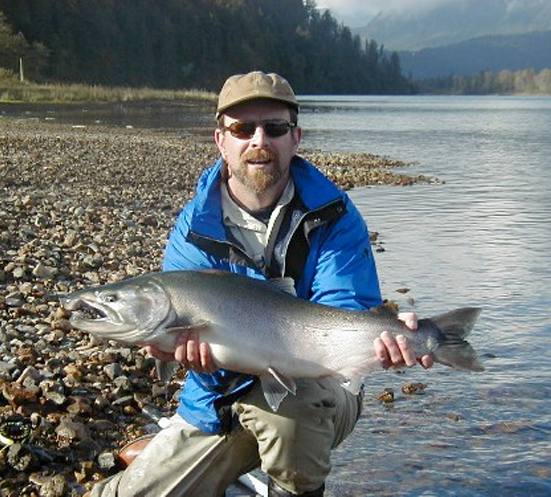 Coho Salmon are the pinnacle of sport fish with in the Pacific salmon family. These fish can range from being extremely shy and wary to attacking with reckless abandonment. Coho average from 5 to 10 pounds with certain fish topping 20. "Silvers" are very arial fighters often jumping repeatedly and tend to do most of their battling within the first couple feet of the surface. Fishing for them can range from open ocean kelp beds to fresh water back channels.
Coho are swift, active fish. These salmon are found in most BC coastal streams and in many streams from California to Alaska, but their major territory lies between the Columbia River and the Cook Inlet in Alaska. Coho spawn in over half of the 1500 streams in BC and Yukon for which records are available.
Quick Facts
Scientific name: Oncorhynchus kisutch.
There are more distinct populations of coho than of any other Pacific salmon species in BC.
Although coho tend to remain close to the coastline, they have been found as far as 1600 km from shore.
Juvenile coho defend their territories through a series of maneuvers including a complex shimmy-shake, dubbed by scientists the "wig-wag dance".
---
Chinook (King) Salmon

top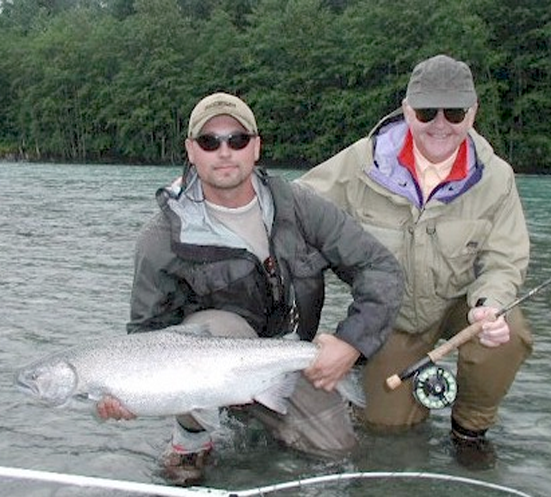 If a fight is what you after than kings are for you. These are the biggest of the big and there is no such thing as a "small" chinook salmon. Averaging between 12 and 25 pounds one must always be ready to play a monster ranging from 30 to 50 pounds. What chinook lack in glitz, they make up in sheer power. Once hooked, bigger kings need to be chased in the jet boat. All fly fishing for Chinook is done with in the confines of rivers.
A favourite in the recreational fishery, the chinook salmon is known by many names: King, blackmouth, quinnat, and chub are all references to this powerful fish – with those over 14 kilograms (30 pounds) dubbed "Tyee".
Quick Facts
Scientific name: Oncorhynchus tshawytscha.
The chinook is the largest of the Pacific salmon species, the world record standing at 57.27 kilograms (126 pounds).
Chinook are also known as "spring" salmon because they return to some rivers earlier than other Pacific salmon species.
This species is known as piscivorous, meaning that they eat other fish.
---
Chum Salmon

top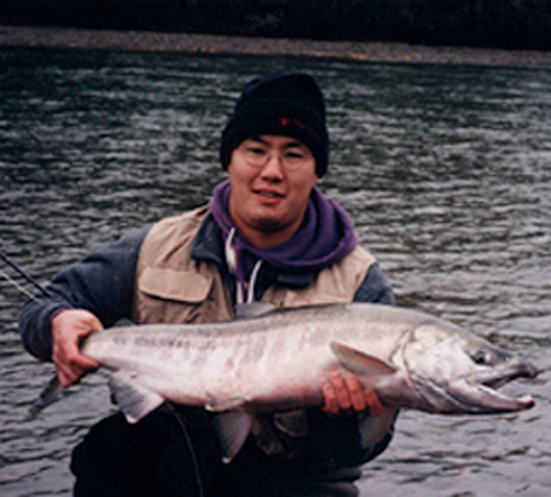 Simply said chums are a work out. These fish show in huge numbers every year and are eager fly bighters. Averaging between 8 and 16 pounds, these are some of the biggest "dogs" in the world. Many chum are caught each year topping 20 pounds with some coming close to 30. Absolute bulldogs, chum are knuckle busters. Stamina to fight fish is a pre-requeset when chasing these bruisers. BCFFC is currently responsible for the 2,4,6 and 20 pound IGFA world records. All fly-fishing for chum is done in either fresh water and/or brackish water.
Commonly referred to as dog salmon due to the appearance of mature males, chum is the least sought-after of the Pacific salmon species, though has long provided a food staple for coastal peoples due to its abundance in the region.
Quick Facts
Scientific name: Oncorhynchus keta.
Chum salmon are found throughout the Pacific Rim, from Oregon to Alaska and as far afield as Japan and Korea.
Chum are the poorest jumpers of the Pacific salmon world and waterfalls that do not impede any of the other species can often stop their upstream migration.
This is a preferred fish for cold-smoking, owing to the low oil content of the flesh.
---
Sockeye (Reds) Salmon

top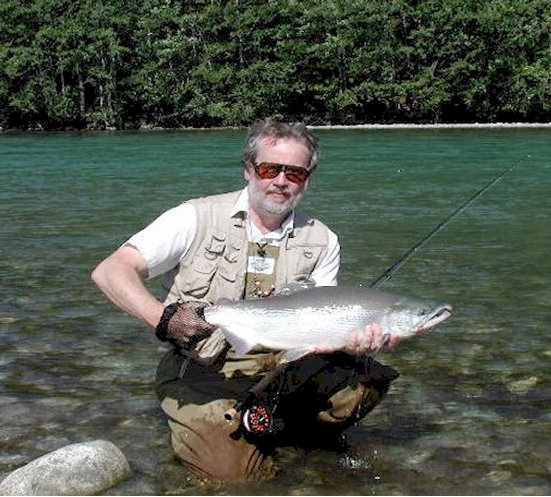 Screaming runs, tail walking, torpedoing, cart wheeling are but a few words used to describe the fight of a Sockeye. When we intercept these fish they are anything but "red" and are probably closer to their prime, sea liced and silver, than anything else. Sockeye average between 5 and 8 pounds, with larger specimens breaking the 10-pound marker. Numbers in fish vary every year but usually they are one of the strongest runs. All fly fishing for reds is done on the rivers.
The best known Pacific salmon, sockeye are the most sought after for their superior flesh, colour and quality. Their rich oil content and red colour make them a favourite with the Canadian and international public.
Quick Facts
Scientific name: Oncorhynchus nerka.
Sockeye were the first salmon to be harvested commercially in the Pacific Region
The rich colour and oil content of sockeye may be attributed to their diet which includes a high percentage of shrimp and other crustaceans.
The name sockeye is believed derived from the Coast Salish name "sukkai" at one time in common usage in southwest BC.
---
Pink (Humpy) Salmon

top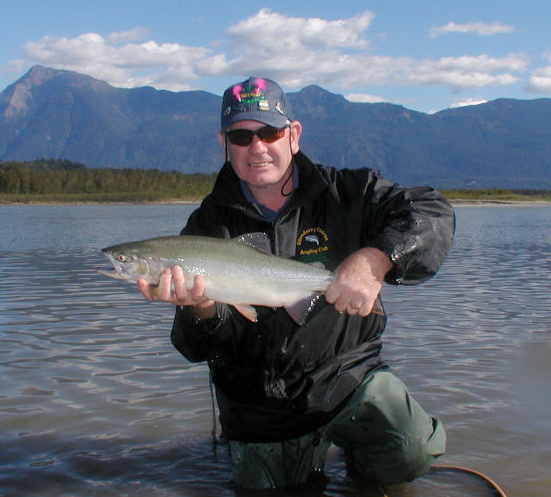 This is a great place to start if you have never caught a salmon before or are looking for non-stop action. Pink's show in huge numbers every year up and down B.C.'s coast as they are the single largest run of salmon that there is. Scrappy fighters, humpy's are extremely aggressive towards a fly and will often chase and repeatedly "hit" your offerings. Pinks average between 2 and 6 pounds. Salt-water beach fishing and/or fresh water river fishing is available.
This species is found in streams and rivers from California north to the Mackenzie River, with their principal spawning areas between Puget Sound, Washington, and Bristol Bay, Alaska. They migrate to their home stream from July to October, and while some go a considerable distance upstream, the majority spawn in waters close to the sea. During the spawning period, both sexes change from their blue and silver colouring to a pale grey.
Quick Facts
Scientific name: Oncorhynchus gorbuscha.
Pink salmon are the most abundant of the seven species of salmon in BC waters.
Pinks have a short, two-year lifespan.
Fishermen know these salmon as "humpbacks" or "humpies" due to the humped back developed in males as they return to spawn.
---
Steelhead Trout

top
The ultimate challenge that B.C. has to offer; steelhead represent the pinnacle in sport fishing on the west coast. Steelhead are ocean going, super charged rainbow trout averaging between 8 and 16 pounds and every one should be considered a trophy. They vary considerably in size from river to river, certain rivers will put out small fish around the 4 pound mark while only a short distant away the largest steelhead in the world are caught over 25 pounds. Squaretails come in two variations; summer run and winter run. Winter run fish start showing as early as December but due to cold water the fly fishing doesn't start getting good till the end of February. Summer run fishing usually starts in July and will peek at the end of September, these fish come in when water temperatures are at their prime and can be very aggressive towards a fly. All fishing for steelhead is done in the rivers.
A legendary fighter, the steelhead has a long history in BC's angling community, although recent population declines in the Georgia Basin area have seen many protective measures come into effect in order to restore dwindling stocks.
Quick Facts
Scientific name: Oncorhynchus mykiss.
Steelhead were at one time considered a trout species but have been discovered by biologists to be more closely related to Pacific salmon than other trout.
The fresh water variant of steelhead is known as rainbow trout.
Unlike most other Pacific salmon, some steelhead individuals live to spawn more than once.
---
Cutthroat Trout

top
One of the prettiest trout you will ever come across, cutthroat are splendid light tackle sport fish. These fish are fresh from the ocean entering the rivers on the feeding bonanza that the minnows of the salmon offer in the spring. Most of this fishing is surface orientated and is quite intense at its peek. Cutthroat average from 13" to 18" with larger specimens going over 20". Mostly river oriented, some beach fishing is available around the Vancouver area in season.
There are several variants in BC and most popular Kootenay version is the Westslope Cutthroat Trout. It is a member of the Salmonidae family. It has a streamlined body shape with small, irregularly shaped dark spots. It has a series of small basibranchial teeth at the back of the throat. The Westslope Cutthroat Trout's colour ranges from silver to yellow green with red on the front and sides of the head. Spawning fish often develop a bright red colouration over the entire body. It is typically small in size at 150 to 230 mm (28 to 142 g); larger individuals rarely exceed 460 mm (1400 g).
Quick Facts
Scientific name: Oncorhynchus clarkii lewisi.
Most often found in cold, clean, moving water with various forms of cover such as undercut banks, pool-riffle habitat and riparian vegetation
There are two varieties of coastal cutthroat trout, resident and sea-run.
Cutthroat trout are very sensitive to elevated levels of sediment and chemical pollution. Therefore, they are a good indicator species, meaning their presence is a sign that the ecosystem is in good shape.
---
Bull Trout/Dolly Varden

top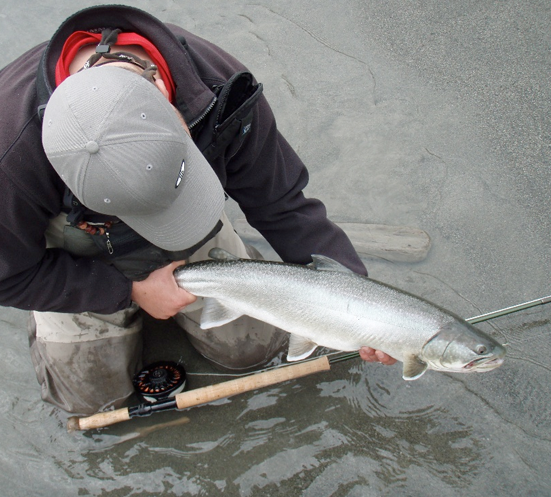 These special fish are not true trout but rather in the char family. Increasingly rare in the rest of the world, B.C. boasts one of the strongest populations of bull trout. Size range's tremendously as one fish could be 14 inches and the next 14 pounds. Sea run dollies as well as resident dollies and bull's can be found side by side in the same pool. The distinction between the species is in the color of the fish; sea runs are extremely chrome where as resident fish tend to be darker and more colorful. Another reason to target these fish is the pictures and rugged rivers that they decide to call home. All fishing is done with in rivers.
Quick Facts
Scientific name: Salvelinus malma.
Body is laterally-compressed, with large eyes below the top of a round, medium-sized head
Caudal peduncle is long and wide; the caudal fin is broad, flat and unusually unforked;
Juveniles are brown with a whitish belly, with small red spots on the sides and back, and 8 to twelve rectangular parr marks on their sides and back
Adults have small, pale-pink or red spots with surrounding halos
Spawning sea-run males are brightly coloured and will develop a hook in the lower jaw
Females, non-spawners, and non-anadromous males are more muted in colour; and Sea-run adults reach over 350 mm in length, while non-anadromous adults are 300 mm or less.
---
Rainbow Trout

top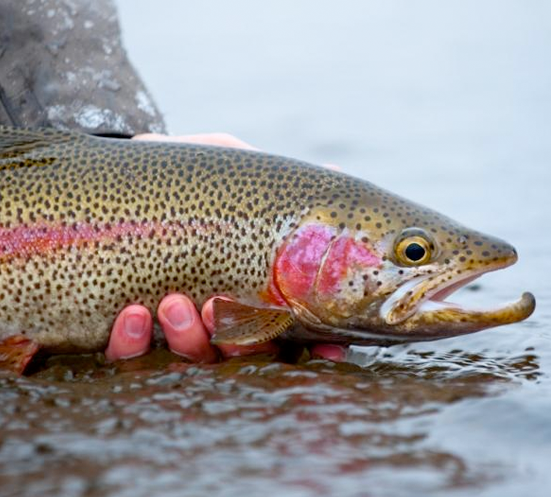 One of B.C. most famous and exclusive fish. Each year a huge pilgrimage of fly anglers invade B.C.'s water to try their hand at one of the hardest fighting rainbow trout in the world. Sprouted around the town of Kamloops there are over 300 hundred lakes that hold rainbow trout with in a 60 mile radius of town. Kamloops is a short flight or approximately 2 ½ to 4-hour drive (depending on which piece of water) from Vancouver making this fishery an overnighter. Although most of the famous fishing is in still water, stream and river fishing is also available and excellent in season. Kamloops trout range in size depending on the water they are found in, anywhere from 12 inches to 12 pounds with certain lakes putting out fish over 20 pounds.
Rainbow trout have a slender, elongated body distinguished by an iridescent pink or red lateral line. They are generally silvery on their sides (sometimes with a greenish tinge in landlocked specimens), with a dark blue to olive back and a white underside. Their flanks and all of their fins (including their tail) are sprinkled with dark spots. Rainbow trout grow to about 15-40 centimetres and seldom exceed 1 kilogram in streams or 3 kilograms in lakes. There is much more food in the ocean so steelhead grow larger, typically 50 to 75 centimetres in length and four kilograms in weight. The Gerrard rainbow trout of Kootenay Lake in south-central British Columbia are famous for their large size with adults typically exceeding 10 kilograms.
Quick Facts
Scientific name: Oncorhynchus mykiss.
Rainbow trout are closely related to salmon and arctic char
The salt water variant of rainbow is known as steelhead trout.
---