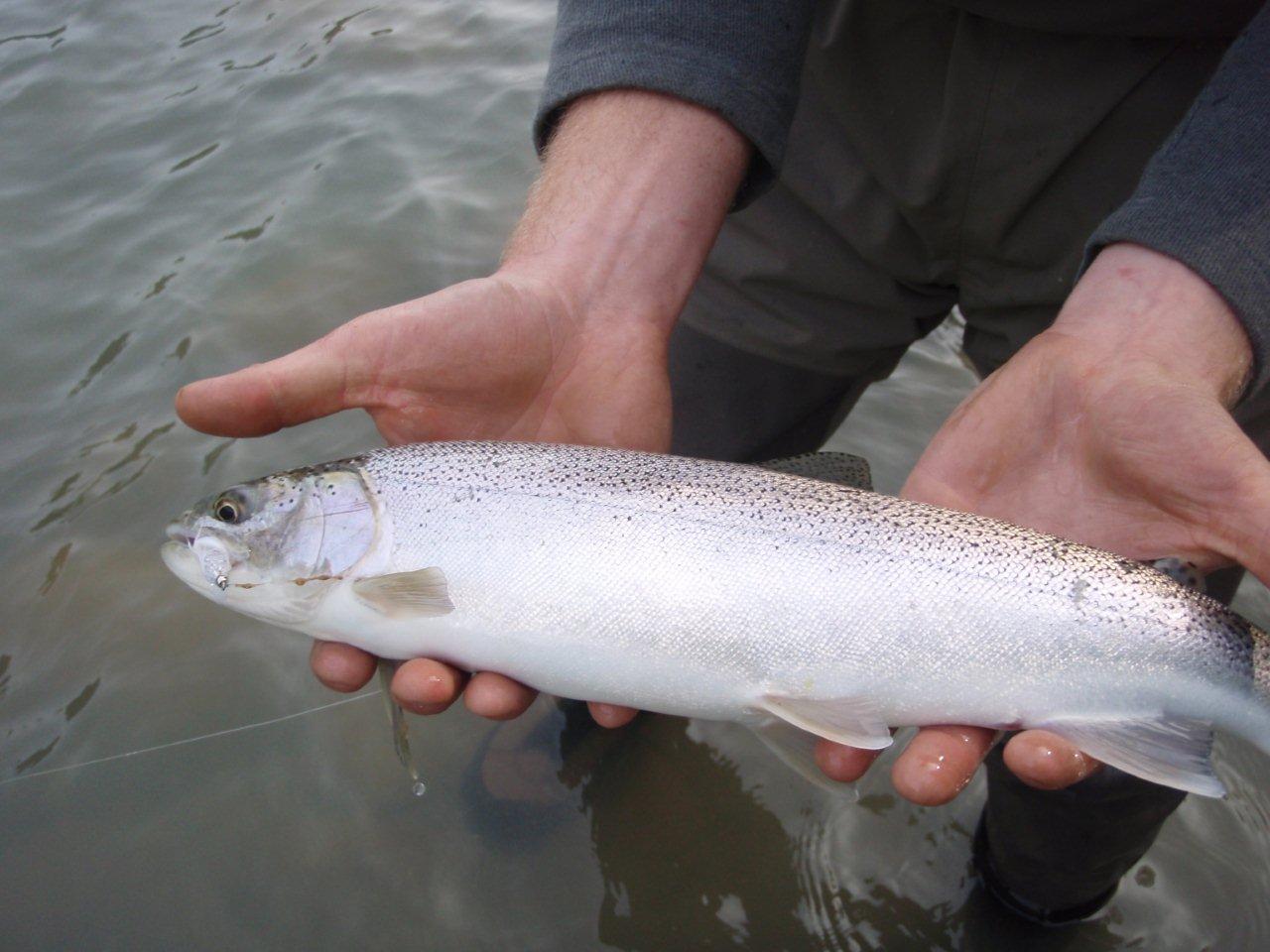 Although we've been having some beautiful weather this last week, it isn't expected to stick around much longer as weather forecasts predict rain moving in next week. The sunshine is great, but the rain will do much to boost water levels on rivers like the Chehalis, Harrison and Vedder, which are very low right now. Speaking of the Vedder, let's begin with steelhead fishing which is coming into its prime for fly-fisherman right now. Despite being extremely low, the Vedder is still producing fish, and as water temperatures are rising the fish are becoming more susceptible to the swung fly. You still need to get down deep, so keep those sink tips on. In the lower water, and as the fish get more aggressive try using smaller, darker flies such as General Practitioners, egg sucking leeches and stonefly nymphs, but keep your bright marabou flies handy. Also, more wild fish move into the system at this time, which means the pressure from fisherman will start to slow down as the hatchery fish clear out. There will be fish throughout the system now as the majority of the run has entered the river. Other opportunities for steelhead include the Chehalis, which really needs some rain to push some fish in, and the Squamish, which receives its fish later than the Vedder does. Although the run on the Squamish is not huge, there are still fish to be caught and the area is one of the most spectacular in the lower mainland to spend a day on. You also get the added bonus of some beautiful "by-catch" such as bull trout, rainbows, and the odd cutthroat. Other streams to try for steelies on are the Stave and Allouette.
This is the time of year that the cutthroat fishing really starts to get productive, although, due to low water, reports are spotty. Your best bet is to try the Harrison River and the Fraser backwaters and sloughs, although the Stave, Allouette and Little Campbell can also be great fun. The salmon fry start their migration at this time of year, so make sure you take some small minnow patterns along with your leeches and stonefly nymphs. The cutties will start to key in on the fry as the spring progresses, so make sure you stock up on Rolled Muddlers, Tied-down Minnows, and Epoxy Minnows, among others. A floating line or slow sink tip is the is all you need as cutties are aggressive feeders, and remember, the fish move around a lot, so you must do the same. Also, low-light conditions are the best time to look for cutties, so concentrate your efforts in either early morning or last light, or on overcast days.
Lake season is almost upon us so now is the time to pull out the gear and make sure you're ready. The local lakes such as Mike, Green Timbers, Morgan, Francis, Rolley and Sayers get stocked around this time, so grab your float tube and some chironomids, leeches, dragons and immature damsel patterns to try for these voracious trout. Ice off is right around the corner in the interior. There are a few rumors of ice free water already. Confirmation and reports will be happening daily.
Here at M&Y we are have been preparing for spring with courses and schools on entomology, casting, chironomid fishing, cutthroat fishing and steelhead fishing. Our courses run into May, but dates are filling fast so give us a call or check our website for more information.
One last note, 2019 licences expire at the end of this month, so stop on by to pick up your 2020 licence and regulation book.
As COVID-19 becomes incredibly real for all of us we are hopeful that we will still be fishing.
That's it for this report, so until next time, tight lines and sharp hooks!