Early Spring Fishing Is Great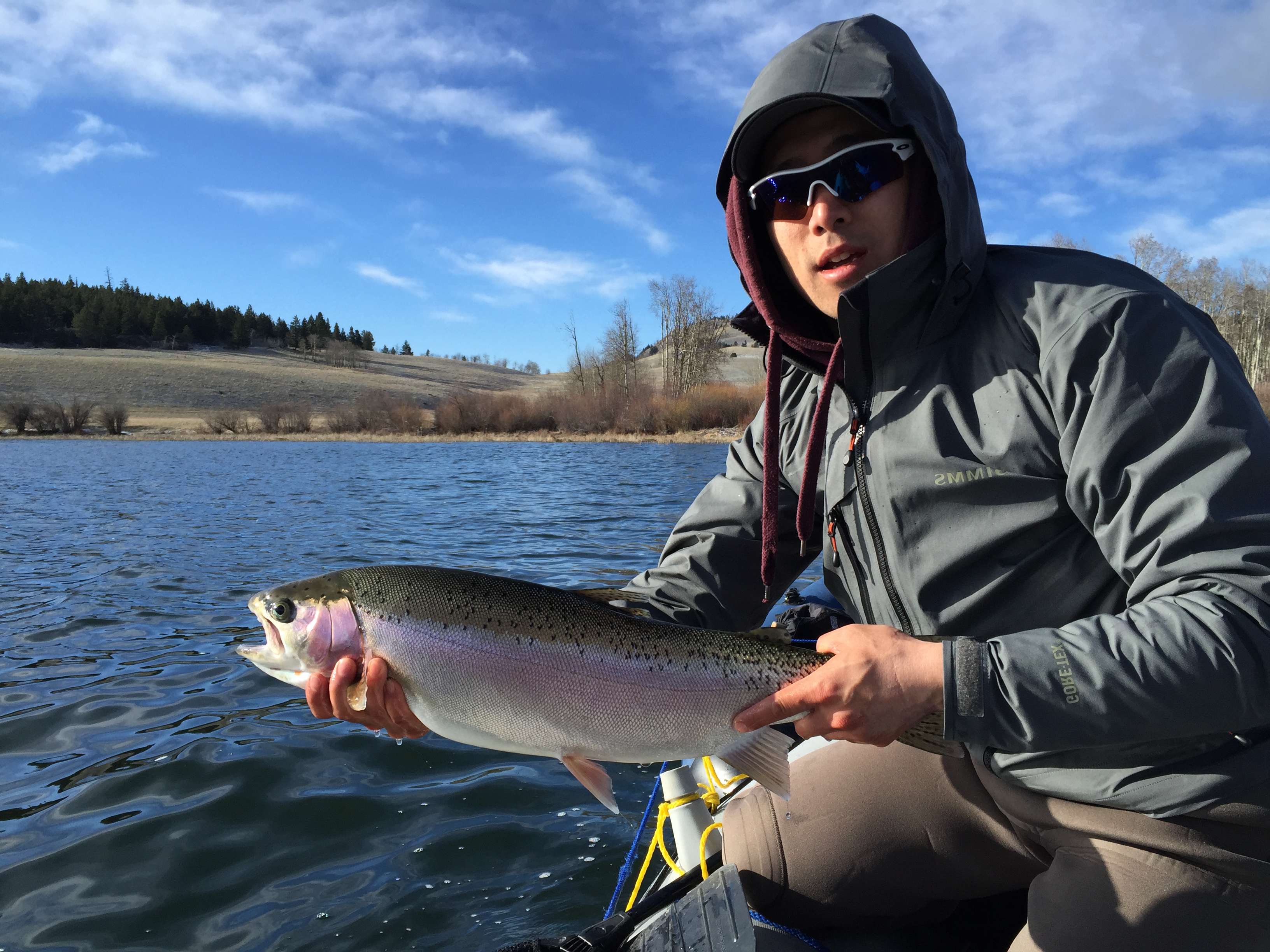 We have had an incredibly early Spring and Lake season is upon us! It's time to head out. Most of the lakes are ice free and some of them have been off for more than a month already. Weather is still on the cold side so water temperatures are as well and the hatches are not yet "thick" but many of the lakes are fishing quite consistently. Early season on the lakes can provide some incredible fishing, as the fish are extremely hungry. Make sure your fly box is full – with everything from your staples (leeches, scuds, bloodworms and dragonflies) to chironomids, damsel nymphs and mayfly nymphs. Focus your efforts in shallow water, on the shoals and along the drop offs in the lakes that are pre-turnover. During the cool morning hours try your staple patterns, and move to the "hatchables" as the day warms up. Keep your eyes peeled for chironomids emerging, and take a look around the lake every so often to see if the swallows are concentrated in any particular area. One of the keys to lake fishing is to keep moving if you aren't hitting fish. They will cruise back and forth on the shoals, and head in and out of deep water. If you're fishing a clear lake, you can usually spot them cruising around. On the lakes which have finished turn-over the fish will be much more spread out.
Chironomids are becoming the bug of choice for more and more people each year. Although fishing them can be frustrating at times, it can also be the most productive way to catch a lot of fish. Anchor your boat at both ends, with your back to the wind. Start with your floating line, and a very long leader, usually about 25% more than the depth you are fishing in. Many anglers use a strike indicator to suspend their fly at a certain depth, usually a foot or two off of the bottom. This allows you to maintain a consistent depth, and also to allow your fly to sit motionless at times. Sometimes a small split shot is needed to get your fly down quicker, and also to help it sit straighter in the water column.
There are thousands of different chironomids in our interior lakes, and finding the right pattern can sometimes be difficult. Try a few different ones until you get a fish, and then use a stomach pump to see what it has been eating. A lot of the time the bugs you see at the surface are much different from what the trout are actually keyed in on further down. Once you have visited the lake a few times, you will get a good idea of what hatches come off and when. Typically the earlier hatches are smaller sizes with the small "Chromie" or Static Bag Chironomids always being a good bet to start.
Local lakes are picking up, if you can't make it to the Kamloops area. You will find the same kinds of bugs here - leeches, dragons, scuds, bloodworms, chironomids, damsels and mays - just not in the same abundance. Some lakes worth checking out would be Mike, Deer, Como, Whonnock, Buntzen, Sasamat, Rolley and Lafarge, to name a few. Many of these have recently been stocked with "catchables" and our weather has been great so go enjoy a day on the water.
Local steelheading is still a viable option right now, and there are still some fresh fish moving in. After last week's dirty water, the Vedder has come back into beautiful shape but it may not last long. As water temps are warmer, you can fish smaller flies and sculpin and minnow patterns at this time of year. Cutthroat fishing is good, although now that the Fraser has coloured up its best to head to cleaner waters. Try Harrison Lake and River, Stave, Allouette, Nicomen Slough and Mariah Slough. Low light conditions are definitely the time to be out. Fish small minnow patterns such as Rolled Muddlers and Tied Down Minnows. Bring along some small leeches, stonefly nymphs and mayfly nymphs as well, and keep your eye out for an afternoon chironomid hatch. Remember that cutthroat will move around a lot, so you must do the same.
Here at the shop we are in the middle of our course season. Starting at the end of April we have our Three Night Beginner Casting Course, and Fly Fishing and Entomology course. Give us a shout for more information. And, Dave has just returned from tropical fishing paradise in Christmas Island. Michael & Young will be hosting a 2016 trip on March 8th of next year.
Tight lines everyone!